Ever since we moved in last fall, I've wanted to give our son more of a grown-up space. In our previous home, he had a full size conversion crib that was passed down from his sister. I remember him telling me that even though he had a big boy bed, his room felt baby-ish. There was no denying it, his bed still resembled a crib! Luckily, his mom had a plan! Earlier this year, I created and built my sweet 8 year old a more masculine rustic headboard that he can enjoy for years to come! He tells me all the time "how cool" it is and how much he loves it! That fun project was just the beginning for his room! These past few weeks, our vision has slowly come to life and finally brings us to this day…
The reveal of Tyler's Big Boy Room!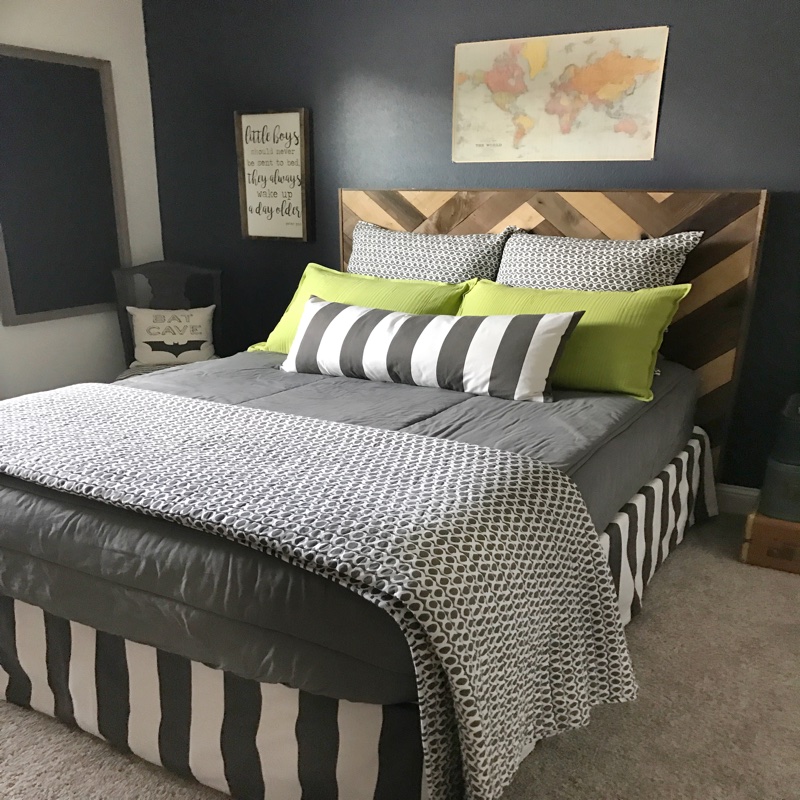 The exciting part came when I was invited to team up with Annie Selke's Pine Cone Hill and complete his updated room with beautiful patterns of gray and green bedding from their C3 Collection. This included coordinating pillows with striped bedskirt and window panels. He loves the bright colors and soft fabrics, but best of all, it's the treasures he helped to find that make this room his own!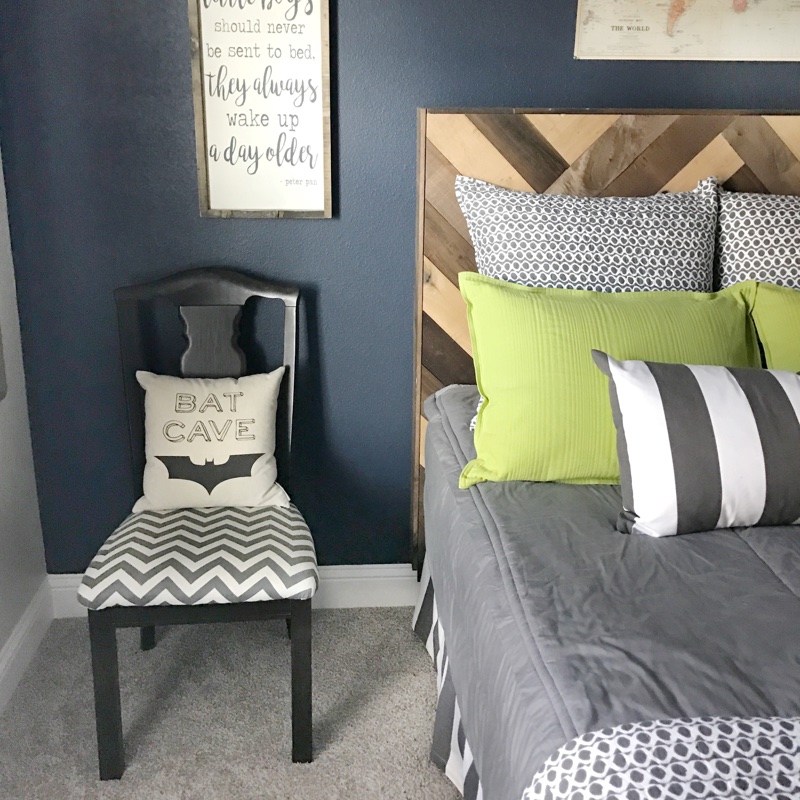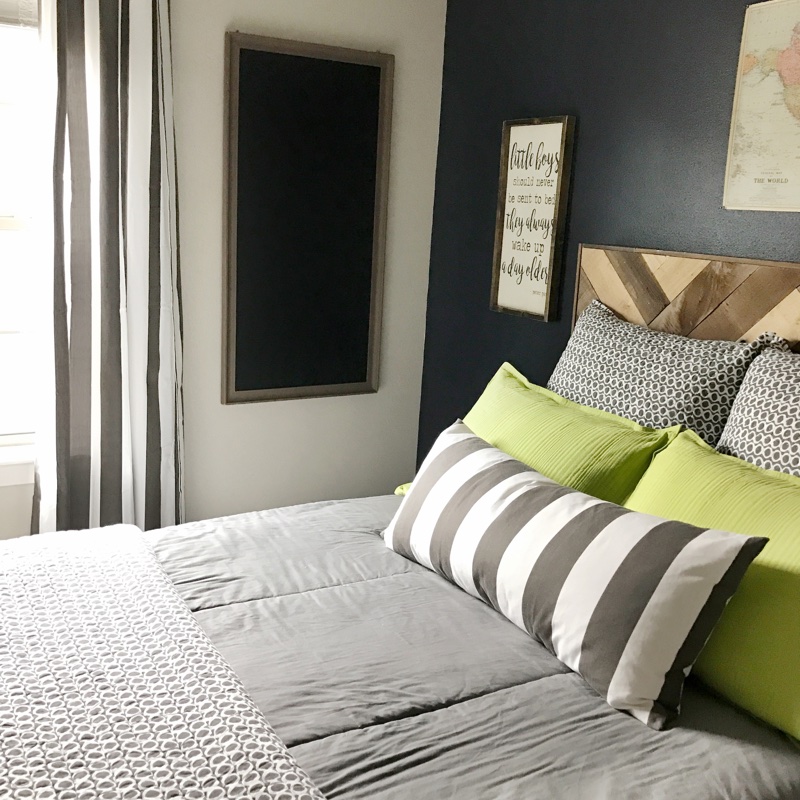 As we were putting his room together, I realized we were creating somewhat of a vintage travel theme. Maps and globes are scattered throughout his room and my favorite part… A stack of old suitcases serve as his nightstand. His gallery wall is a fun mix of handmade signs, sayings and memories that we hold dear! One in particular, is our nightly saying, 'Love You To The Moon & Back!' There isn't a night that goes by that we don't exchange those words. With that, comes a cute story I'll share… The other day, as we were shopping, we noticed this saying and he said, "Mom, look! They're using our words! But wait, I thought I made that saying up?" He was disappointed to learn that he wasn't (poor guy), but thankfully, that hasn't prevented our nightly routine from continuing.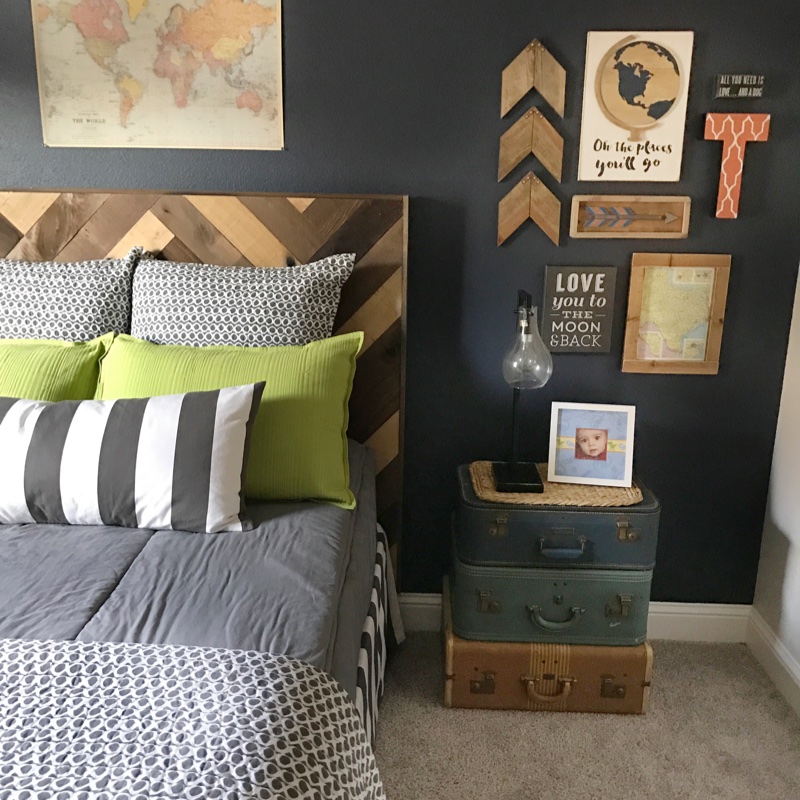 When it comes to antique shopping, Tyler is my little partner in crime! He loves to look through old coins and point out things that he knows I'll love. He's so fun to shop with and often spies things that I've overlooked, I love that he pays attention to the details and is looking out for me! Here's a close-up of just a few of his treasures… That old metal John Deere tractor belonged to his daddy's grandpa; I love the old school desk style shelves, perfect for his room!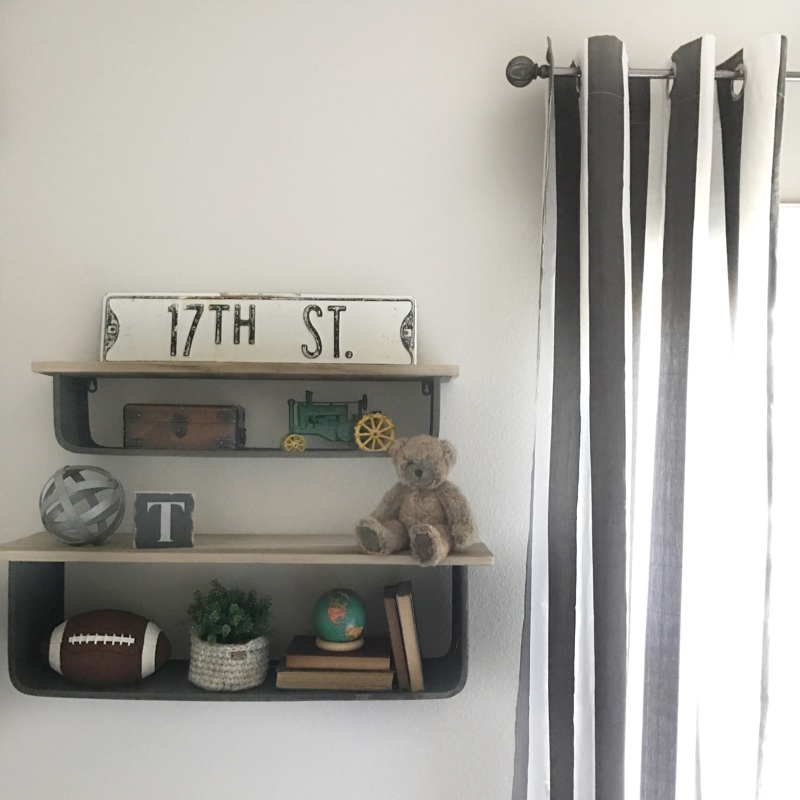 This Drexel Heritage low boy dresser (a Craigslist find from 10 years ago) fits perfectly along this wall and round acacia wood mirror hangs at the perfect height for my little guy!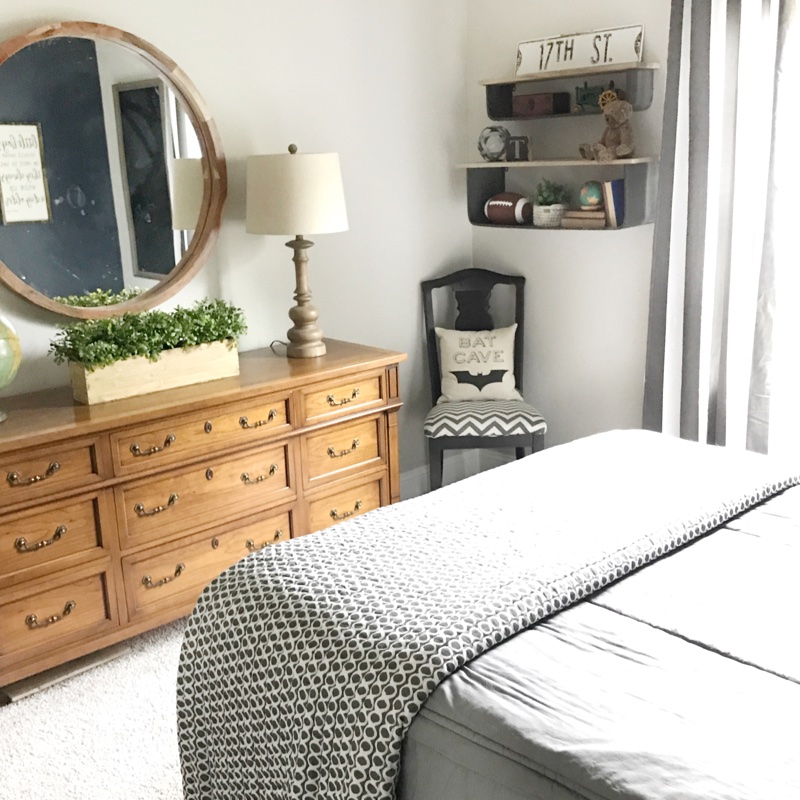 I caught my sweet boy snuggling with this cozy cable knit throw the other day. I knew I couldn't update his bedding without getting a coordinating blanket. He loves to have multiple layers to sleep with at night, especially in the colder months.

The details of his bedding are my favorite. The vertical striped panels frame out his window and match his bedskirt. The soft patterned quilt is reversible and coordinates nicely with the oversize striped lumbar pillow.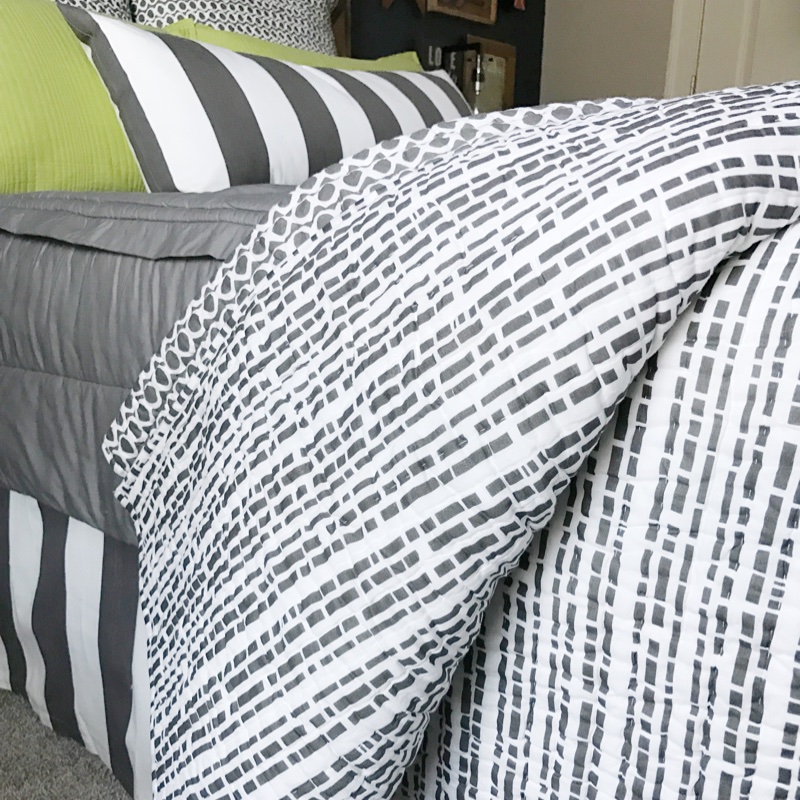 The euro shams have the same reversible pattern, with matching tiebacks.
When it came to creating an accent wall, I knew I wanted to use my go-to color! Navy is a color you'll see in most rooms in our home and Tyler's was no exception! I've been patiently waiting to use Sherwin Williams Hale Navy in our new home; I love the contrast with the gray and green! The remaining walls (all painted in a matte finish) are SW Agreeable Gray.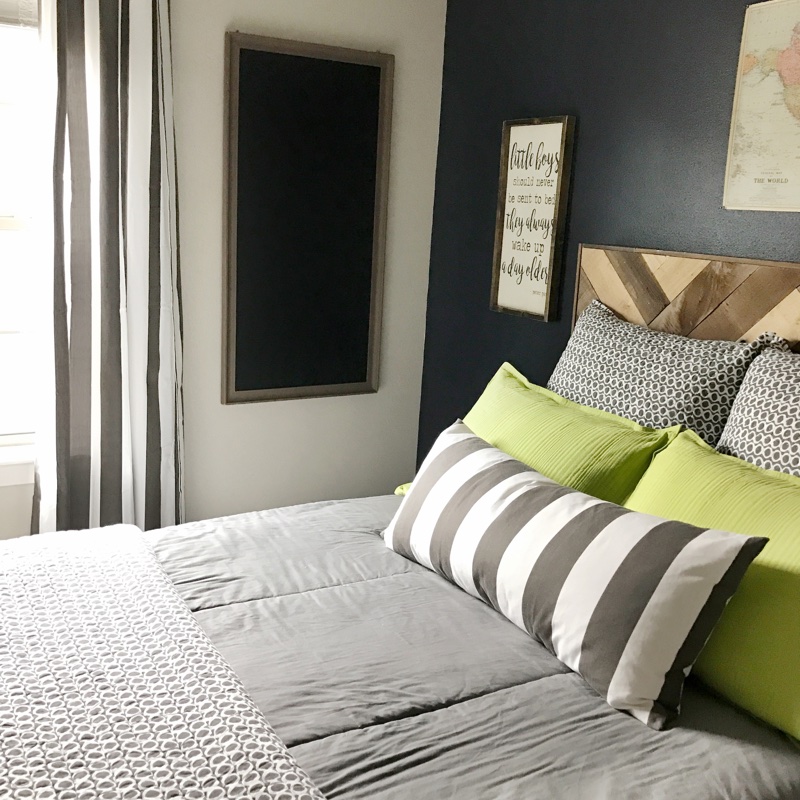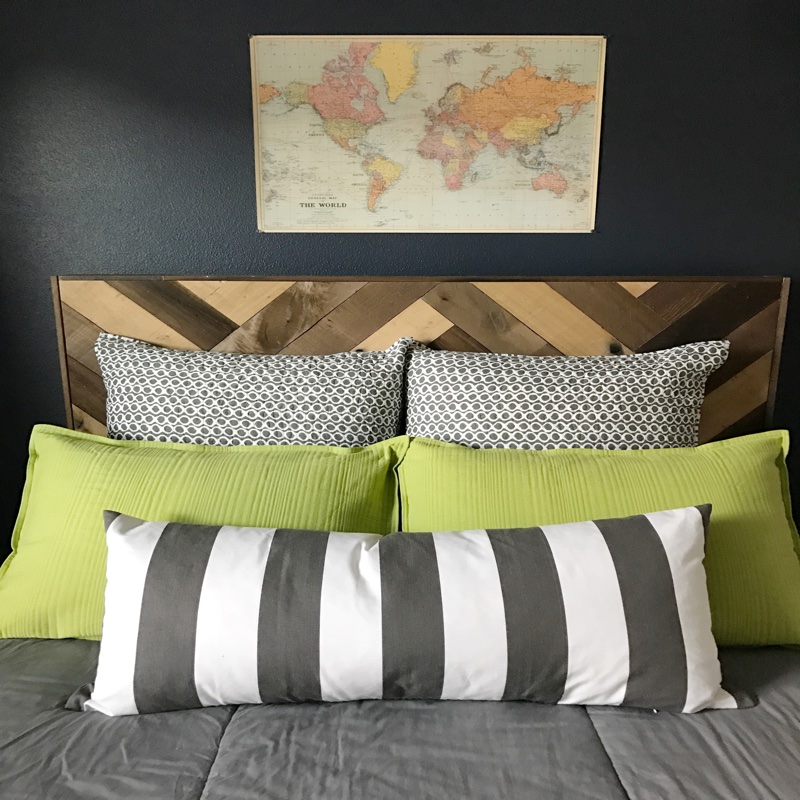 On the days Tyler makes his bed (let's be real, we all wish this would happen every morning), he always places his favorite stuffed animal he's had since he was little. It adds to the charm of his eclectic and fun bedroom!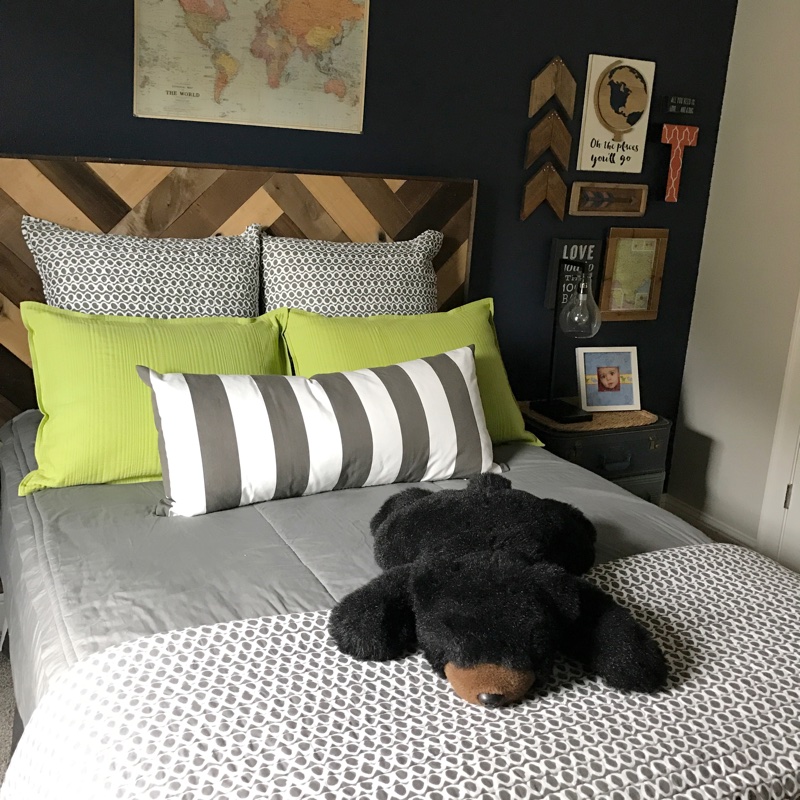 We have yet to fully organize his closet, but I hope to use sturdy bins and baskets to store his books, toys and other must-have gadgets. I hope you've enjoyed the reveal of Tyler's big boy room. I can assure you, the complaints of a once younger looking room are no more… I love that he loves it! Hope you all enjoy your weekend!
Sources list:
Blessings,

I acknowledge that Annie Selke and Pine Cone Hill are partnering with me. As a part of this partnership, I am receiving compensation in the form of products and services, for the purpose of promoting Annie Selke and Pine Cone Hill. All opinions stated above are my own and my experience with the brand and its products.