So, you may have seen my recent posts and videos on Instagram of me sharing our beautiful woven wood shades! Here's a close-up of the fabulous texture they've added in our master bedroom… We absolutely love them!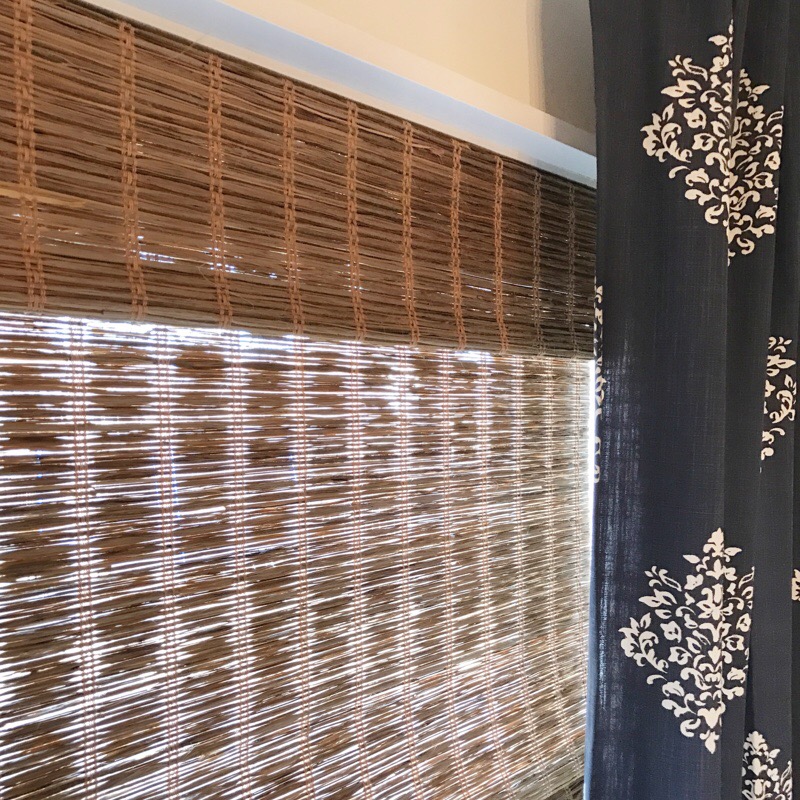 In this post, I'll be giving you a room by room home tour of our favorite blinds. But first, I'd like to address the many questions I've been getting about them! I've listed them out below, so hopefully my answers will help you decide which blinds are best for your home.
Q: "There are so many colors and styles to choose from, how did you narrow it down?"
A: First, let me say, I love that Select Blinds sends free samples, this helped me tremendously! We chose this particular blind because of its beautiful texture and color. It literally reminds me of a woven basket on your window and who doesn't love an amazing woven basket? We wanted the look of warm and cozy; I feel like we achieved that with these blinds!
Q: "What color and style are your blinds?"
A: The color is Jute Wheat and the style is Designer Series Woven Wood Shades.
If you're a visual person like me, this screenshot from their website will be a good reference: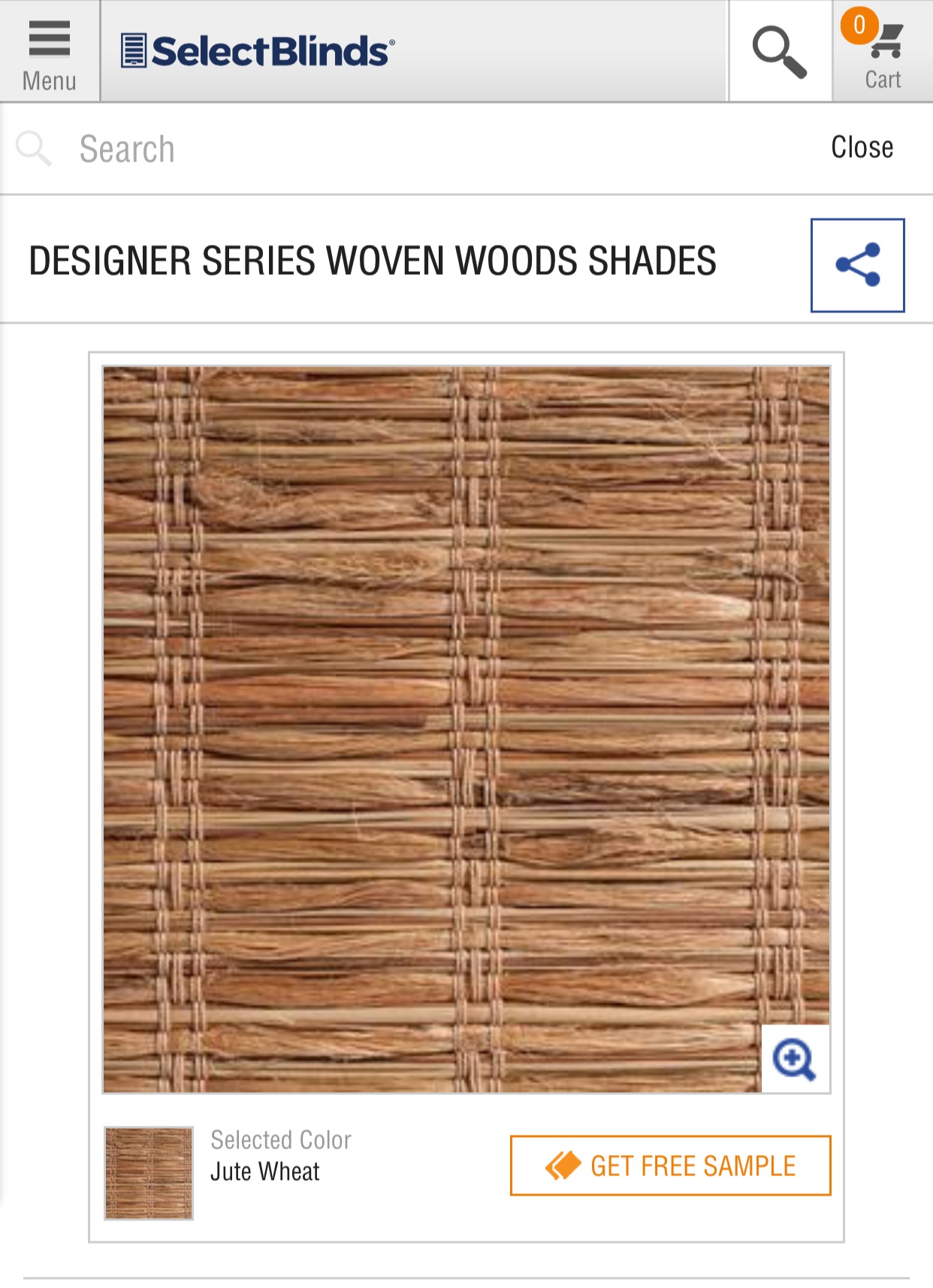 Q: "Are your blinds lined or unlined?"
A: We chose unlined for our downstairs blinds, because we wanted more natural light to come through in the mornings and during the day.
Q: "Are your blinds cordless?"
A: Yes, we chose the cordless option, which includes a hidden ring pull (in the middle) at the bottom of each shade. We love this option for a clean look, but most importantly… It's child safe!
Q: "Do you have inside mount or outside mount blinds?"
A: We went with inside mount shades. Again, for a cleaner look and we eventually want to add curtains to certain rooms for added interest and layering.
Hope that clears up any questions you had… If I can address anymore, please feel free to leave them in the comment section at the end of this post!
Now for some visuals! I know you all love a good before and after, so let me start by sharing a before view of our master bedroom during Christmas before we installed our Select Blinds.
• • Side note: If you're interested in finding similar home decor, please check out my "sources list" at the end of this post!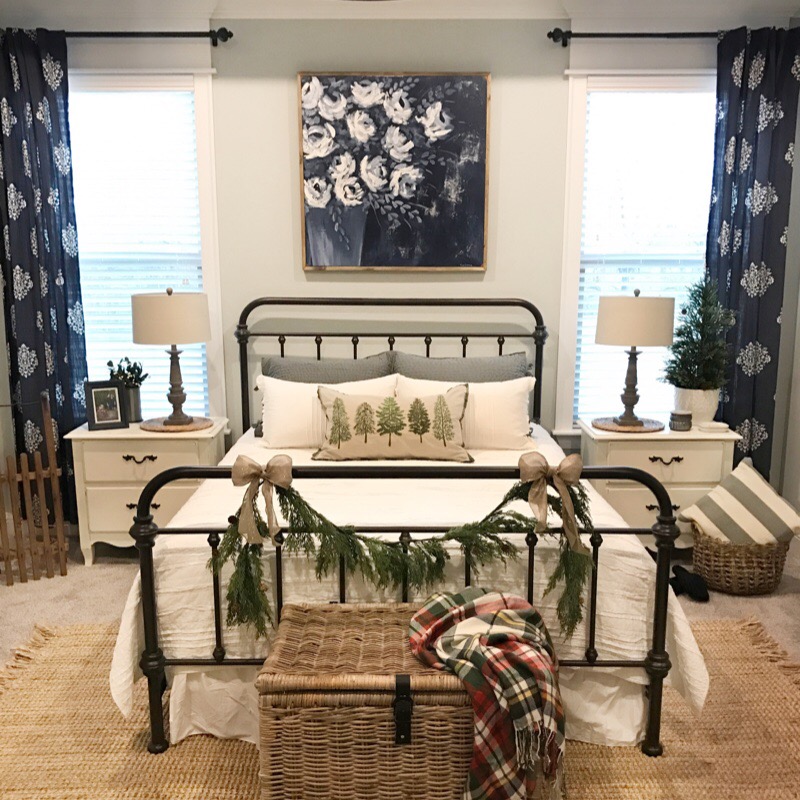 One of my favorite features about these blinds is they retract on their own by the simple use of a ring pull. I've never been a fan of our builder grade white blinds for many reasons. While I've always been thankful for the privacy and shade they provided, I never cared for the ugly dangling cords. Throughout the years of having them, one thing that sticks out in my mind is our cat batting them around in the mornings. Tell me you have a similar story! ;) It was her daily routine and annoying way of waking us up to feed her! Of course now, she finds other ways to bother us… Imagine that!
Our new blinds from Select Blinds were so easy to install. For a quick, how-to video, visit my Instagram account at Our Vintage Nest! My husband and I walk you through the process and I have fun with power tools! ;)
Here's a cozy corner of our guest room. With this room being mostly gray and white and minimal natural light, it was screaming for some texture! So much better now!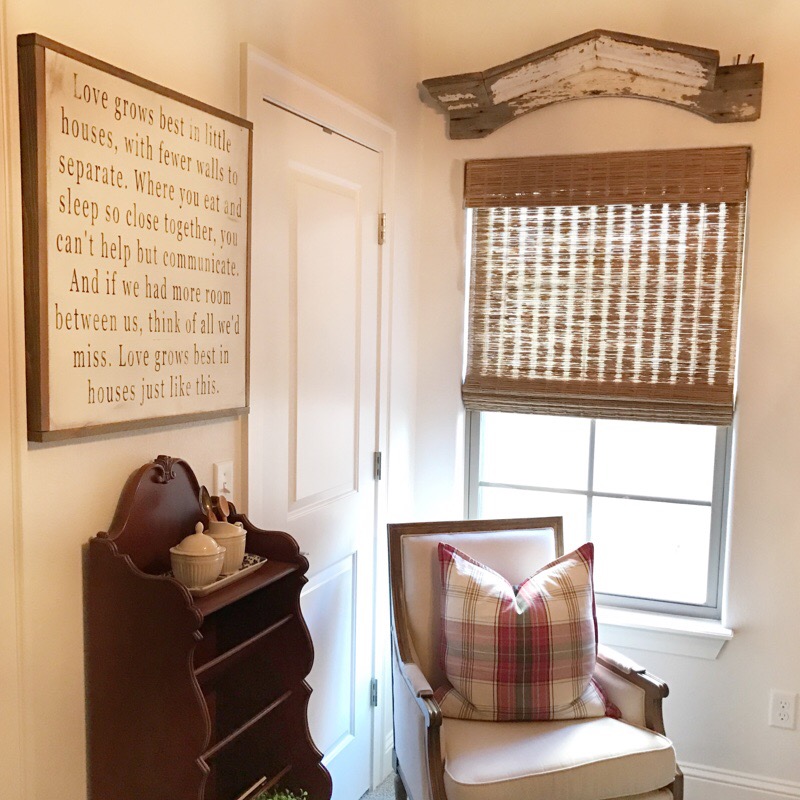 We love the ease of drawing the blinds up whenever we want and the quality is the best I've ever seen! I especially appreciate the options they give you to have lined or unlined. They offer darkening shades and lighter weight liners, which allow the light to come through. As mentioned above, we went with unlined blinds, because most of our downstairs windows face the backyard or side yard. Our backyard also faces a green belt, so we have plenty of privacy, hence our reason for unlined. When it comes time to cover the upstairs windows, we will most likely go with the lighter weight lined shades. Our kids bedrooms are up here and the added privacy of the liners will be necessary.
Our living room has three individual windows, all measuring the same size. This is the room where I knew these shades would make the biggest difference! We have vaulted ceilings in this space, so adding the warmth and texture of these blinds is exactly what this room needed! Here's a before and after view: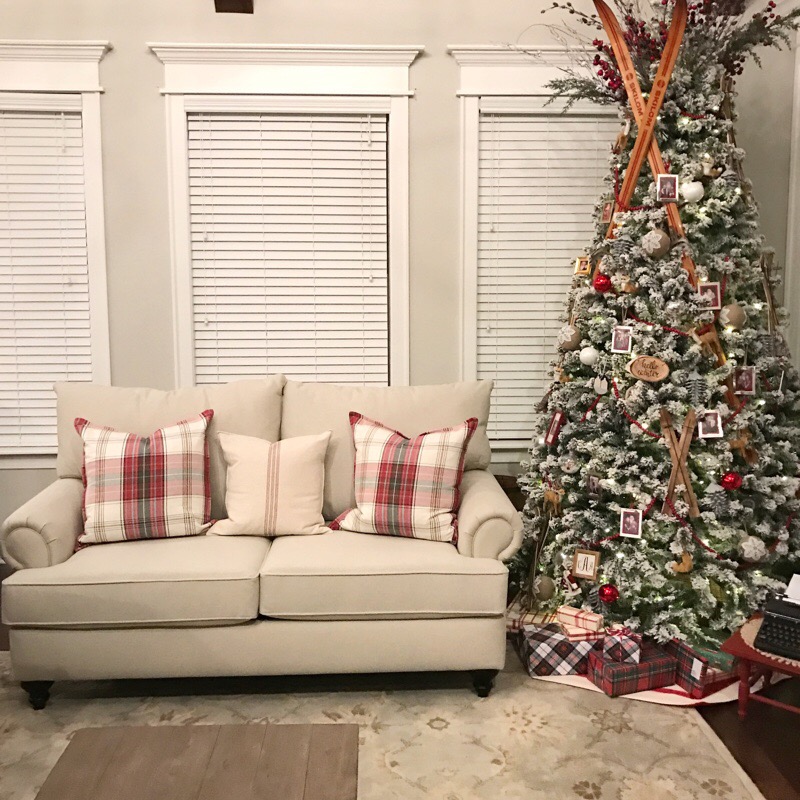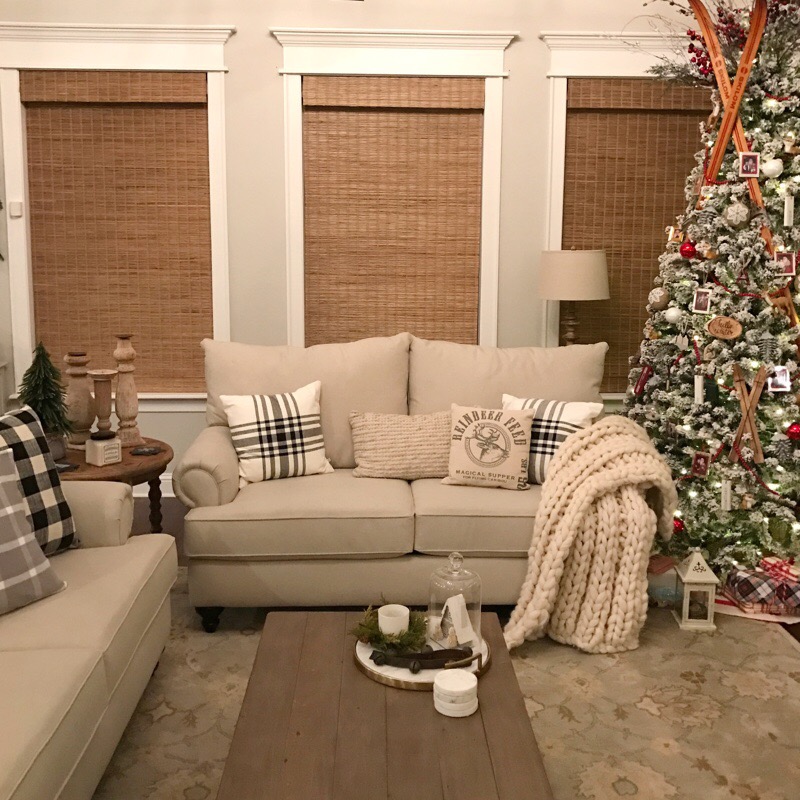 I love our breakfast nook, but it's often difficult to photograph with an east facing window. By adding these woven wood shades with our existing curtains, I knew it would give me that beautiful layered look I was envisioning! This is the same look I hope to achieve in our living room with the addition of white curtains.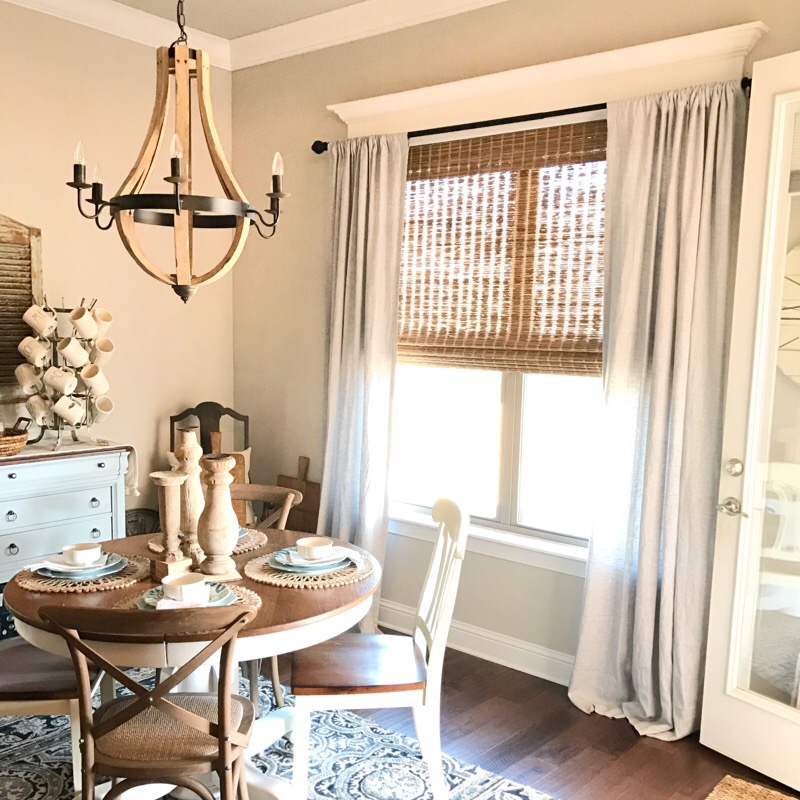 What an impact these made in our master bedroom! Our wrought iron bed is flanked between two windows; framed out by these beautiful navy curtains. For those of you wondering, our wall color is Silver Strand by Sherwin Williams. Y'all, I never imagined the addition of these blinds would make me love this room more, but they do! It's that beautiful warm texture and color that welcomes me at the end of a long day!
I love this night time shot by my bedside table. The texture is so beautiful against the white trim and navy curtains… It's all in the details!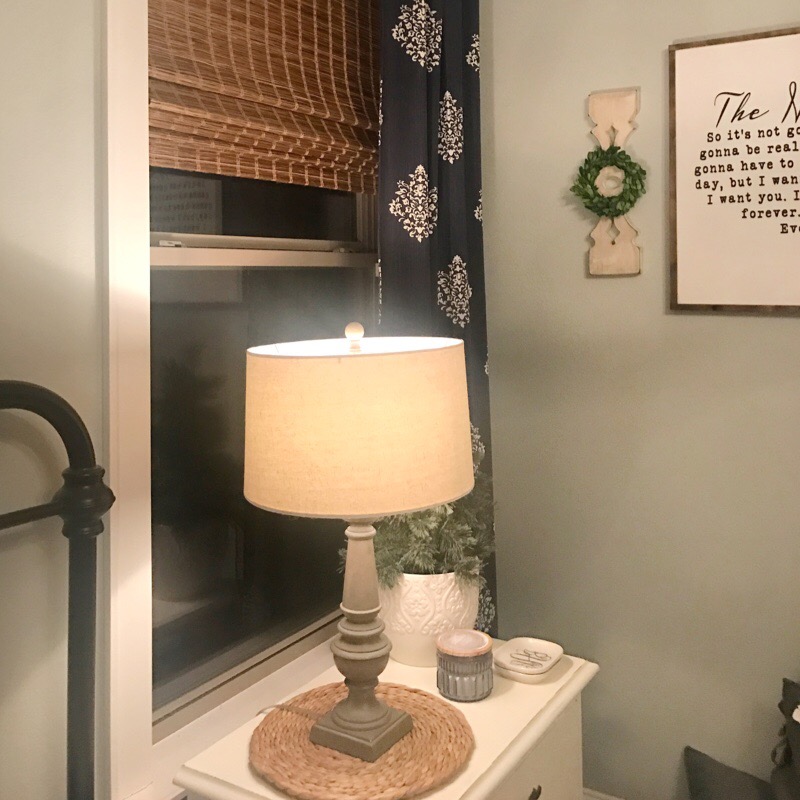 Our dining room is just off the entry; I love what they've added to this room. It's mostly a light colored space with tall wainscoting and my favorite paint color, Silver Strand by Sherwin Williams. These Jute Wheat blinds compliment our dining room table and chairs so nicely and help to balance the white.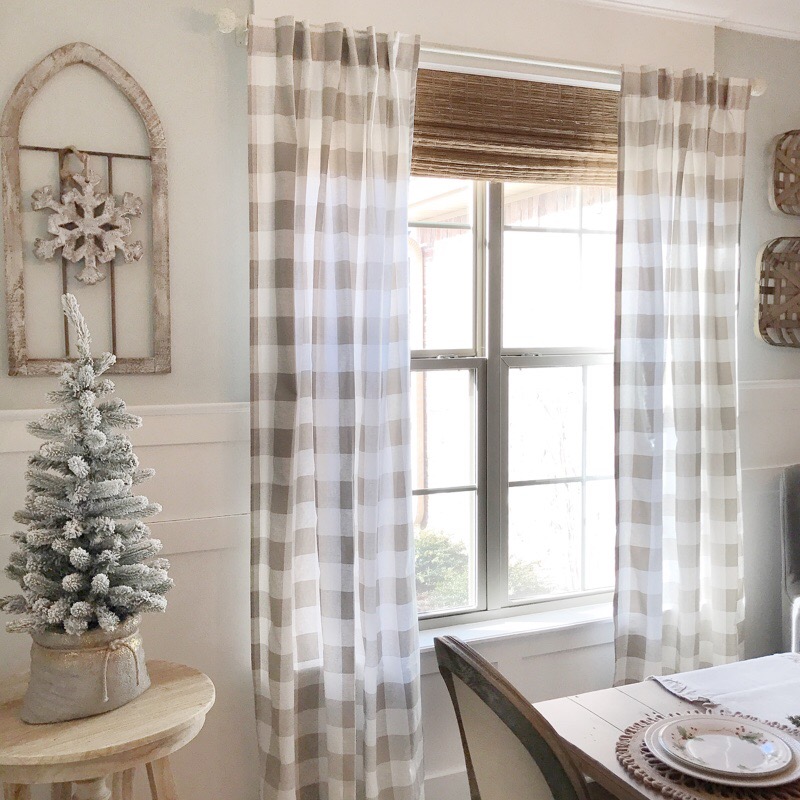 I can't get over how much more "homey" and welcoming our home is with the update of these woven wood shades! Here is a view of the blinds pulled all the way down in our living room. This is why I love the inside mount option, so clean and perfectly cut to size. When they arrived, each blind was individually packaged, labeled for each room, with color and measurements for each window. From start to finish, Select Blinds makes it so easy for you!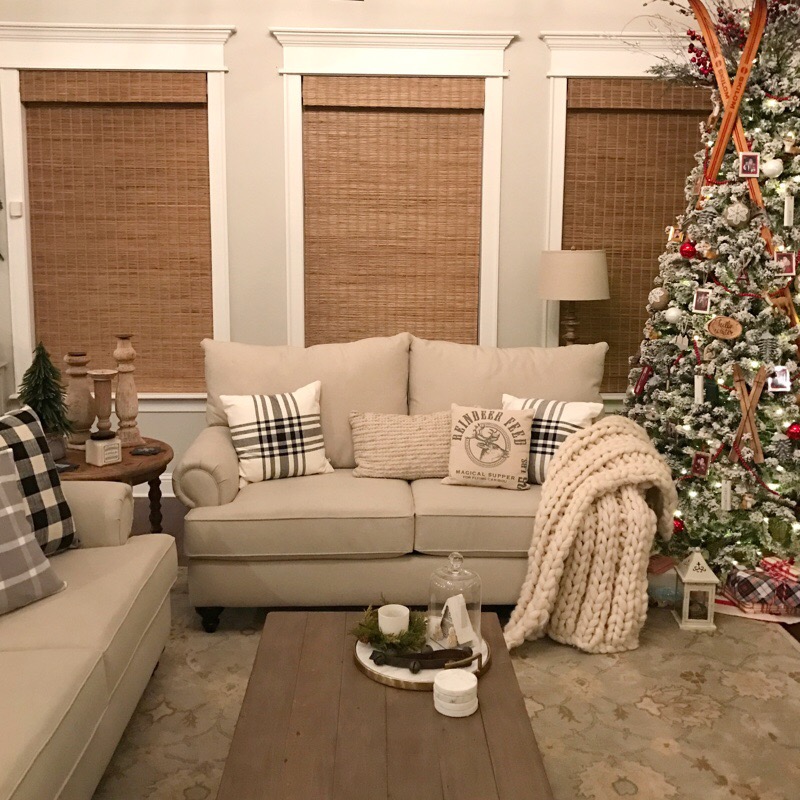 As always, thank you for your interest in our home and for joining me on this room by room home tour of our favorite blinds. Updating our home with these shades has been on my wish list for a long time and it was such a fun project to complete! If you're interested in ordering from Select Blinds, don't forget to request your free samples! If you're ready to order, I'm happy to offer you a special promo code that saves you an additional 5% off sale price! Just enter code OVN5 at checkout, now through February 8th! For a detailed list of paint sources and home decor, please see my references at the bottom of this post! Have a great weekend, friends!
Blessings,

I acknowledge that Select Blinds is partnering with me. As a part of this partnership, I am receiving compensation in the form of products and services, for the purpose of promoting Select Blinds. All opinions stated above are my own and my experience with the brand and its products.
Sources list:
Living Room:
Blinds: Select Blinds
Couch and Love Seat: England Furniture
Master Bedroom Sources:
Night Stands: They are from a matching bedroom set we've had for 15 years. I chalk painted them in Annie Sloan Old White a few years ago. Find similar style here
Navy Curtains: Mine are discontinued, but I've found three similar styles here, here and here
Breakfast Nook Sources:
Pedestal Table: Local flea market – Find similar style here
Dining Room Sources:
Paint and Trim Colors:
Trim and Cabinets: Snowbound by Sherwin Williams
Living Room and Breakfast Nook: Agreeable Gray by Sherwin Williams
Dining Room and Master Bedroom: Silver Strand by Sherwin Williams
Guest Bedroom: Snowbound by Sherwin Williams
* Affiliate links are used in this post to assist you with finding similar sources and decor for your own home and living space.