Hi and welcome, friends!  Our master bedroom has taken on quite a different look since I last shared it on the blog.  Thank you for visiting today, as I take you on a tour of our modern farmhouse master bedroom reveal and reasons why I love my mattress.  I'm happy to be partnering with Christeli and will be sharing an exciting offer at the end of this post!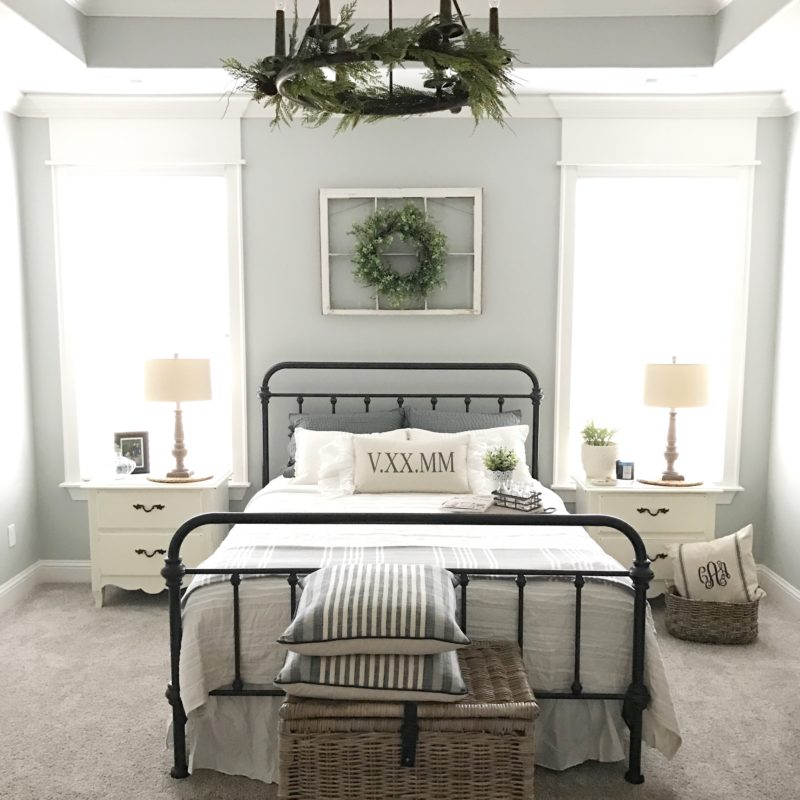 Welcome to our cozy farmhouse style bedroom!  We recently moved our iron bed from our guest room and I wish I'd done it sooner!  I absolutely love the different tones and textures it brings to this space, keeping it light and airy.  I love how the wall color, Silver Strand by Sherwin Williams, ties it all together beautifully!  This classic wrought iron bed can be found at Target, it's been on my wish list for some time and I'm so glad I finally took the plunge… It's even better in person!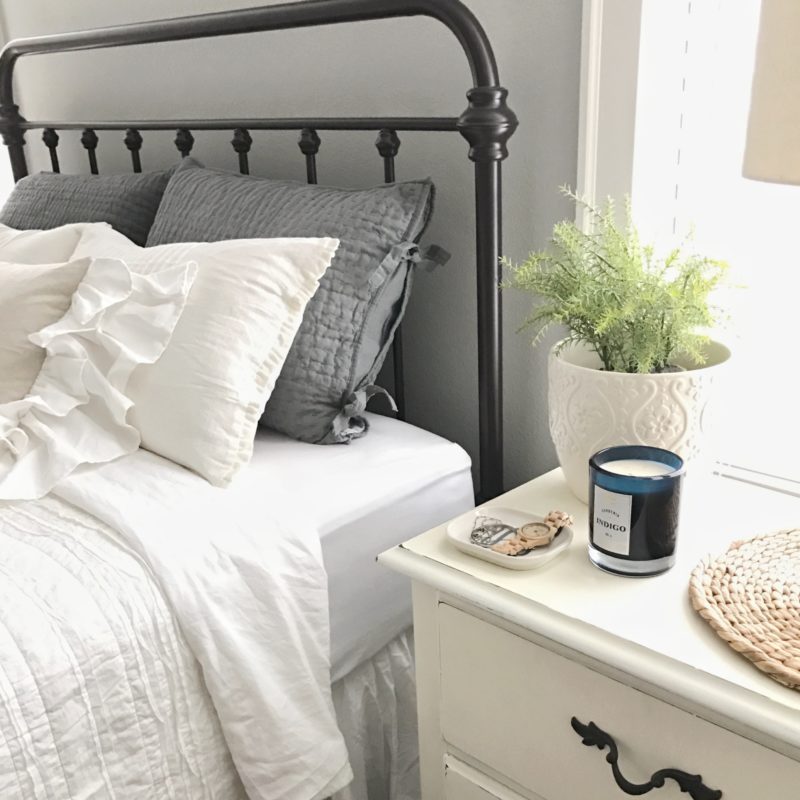 We went mostly white with our bed linens and I love how it brings a brightness to this room, even on the gloomiest of days!  Our bedding is a mixture of pieces purchased from my favorite retail shops, I've listed a few of them below…
We've had our bedroom furniture for over 15 years and I still love the style and lines.  I decided to paint our night stands with chalk paint about a year ago.  This was to help break up the dark wood and it's still my favorite re-purposed project to date.  Our night stand lamps are a few years old from Home Goods; I've sourced similar ones here.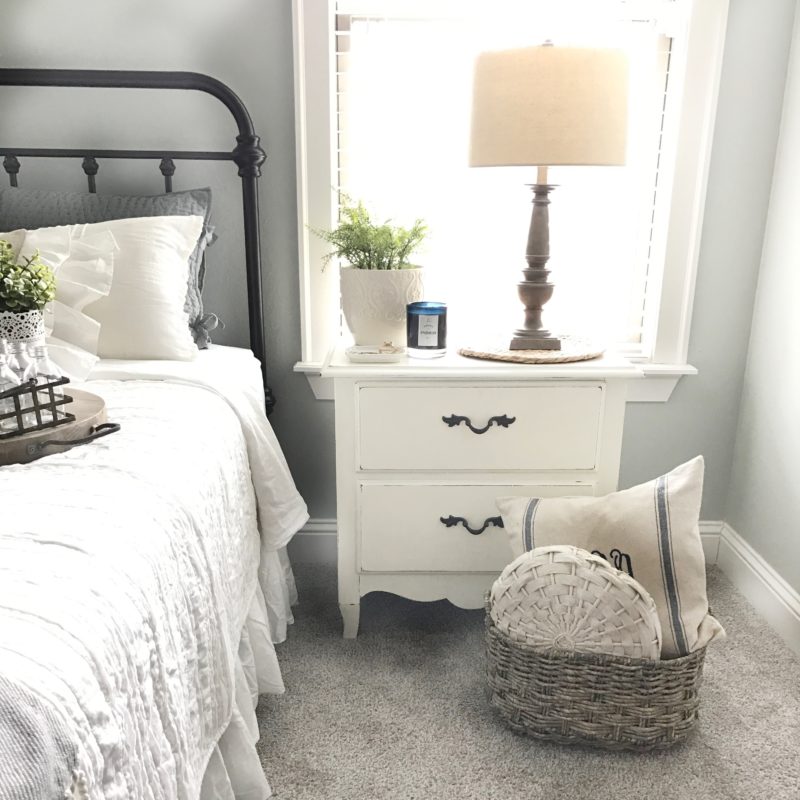 I created a cozy little reading nook, where I usually sit to write blog posts.  I find myself here most mornings, drinking coffee, catching up on blog questions and chatting with my IG friends.  I love our floor lamp from Target, it has a double socket and gives off a lot of light.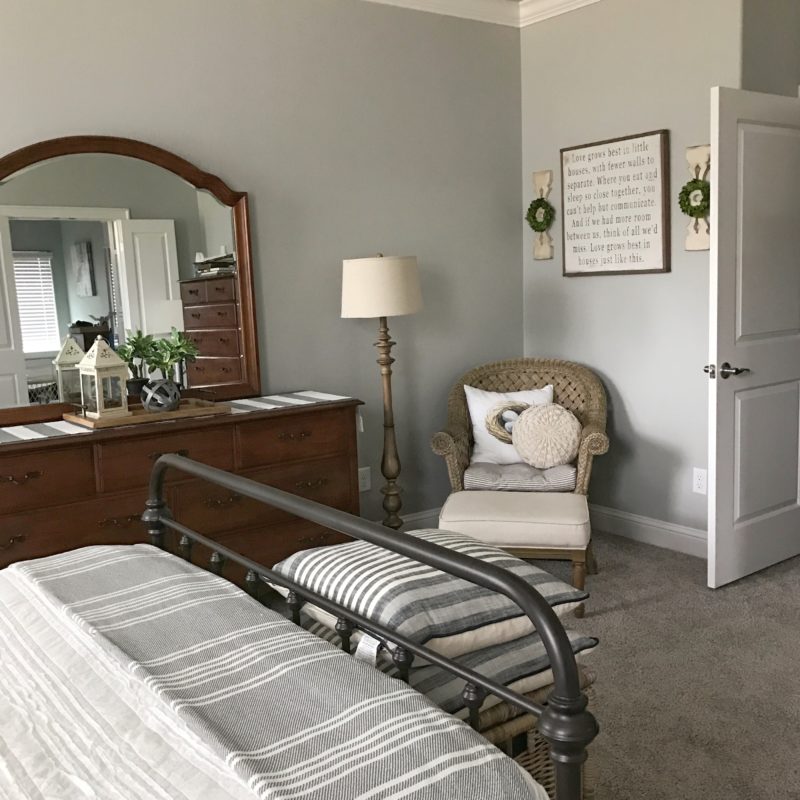 At the end of the day, I look forward to pulling back the covers and nodding off in this fabulous mattress.  Seriously, y'all… My lower back problems are minimal now, thanks to my Christeli mattress; it feels like sleeping on a cloud most nights.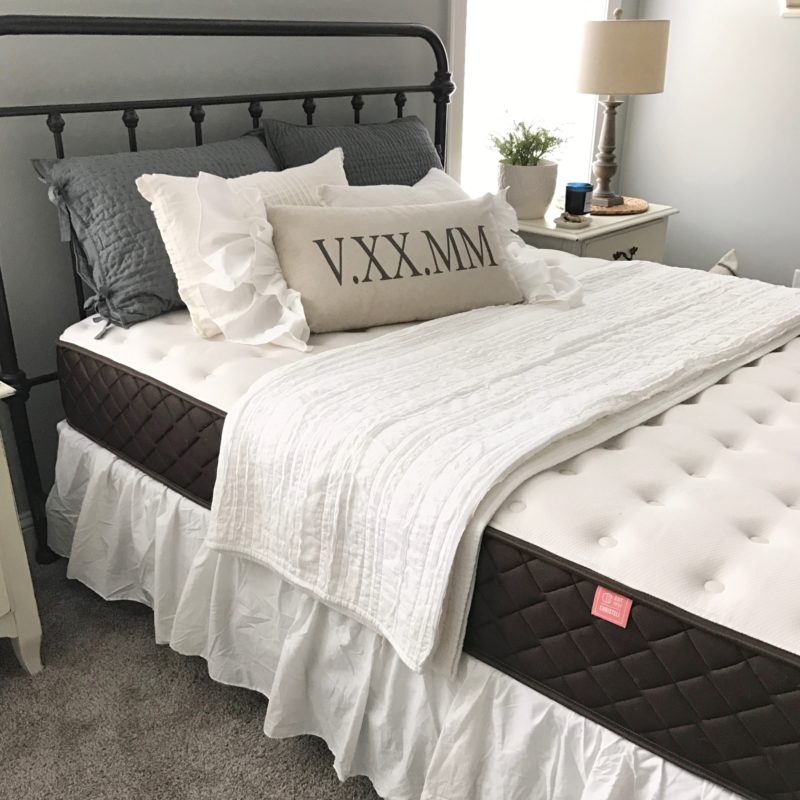 So, now for the fun part!  For those of you in need of a new mattress, I have a special promo code offer!  When you purchase a mattress from Christeli, you'll receive a complimentary mattress protector.  Just use NEST when placing your phone order, offers ends January 31st.
Christeli is such a wonderful company and I love that they give back to the community… For every mattress sold, they will donate 10 meals.
*** For those of you wondering, we have the Versailles model, it's a 10″ mattress consisting of a cotton cover, ventilated NASA memory foam and provides firm, deep-down orthopedic support.  Chiropractor approved and perfect for those with back problems… Hence the reason I love it! :)
I hope you've enjoyed the tour of our modern farmhouse master bedroom reveal and the reasons why I love my mattress.  Hope you have a wonderful night and a great weekend!
Blessings,

I acknowledge that Christeli is partnering with me.  As a part of this partnership, I am receiving compensation in the form of products and services, for the purpose of promoting Christeli.  All opinions stated above are my own and my experience with the brand and its products.