In this post, I'll be sharing the interior lighting sources for our modern farmhouse.  But first, let me say thank you for your continued support and interest in our building journey!  Your sweet comments and questions regarding our design choices have made the stressful times bearable!  We appreciate your patience too, I'll try my best to answer your questions.  Hopefully many of them will be answered here!
So, to make it easy to follow, I'll go room by room, providing the name and brand of each light.  There are TONS of photos (and dust), so bare with me! :)
These black pendant lights in our kitchen were a splurge, but well worth it!  We love how they complete the look in this space!  I didn't want anything too heavy above our chefs island, nor did I want to bother with keeping glass clean.  These adorable Darlana pendants (small size, measuring 17″ from the top of the lantern just below the chain) are from Visual Comfort & Co.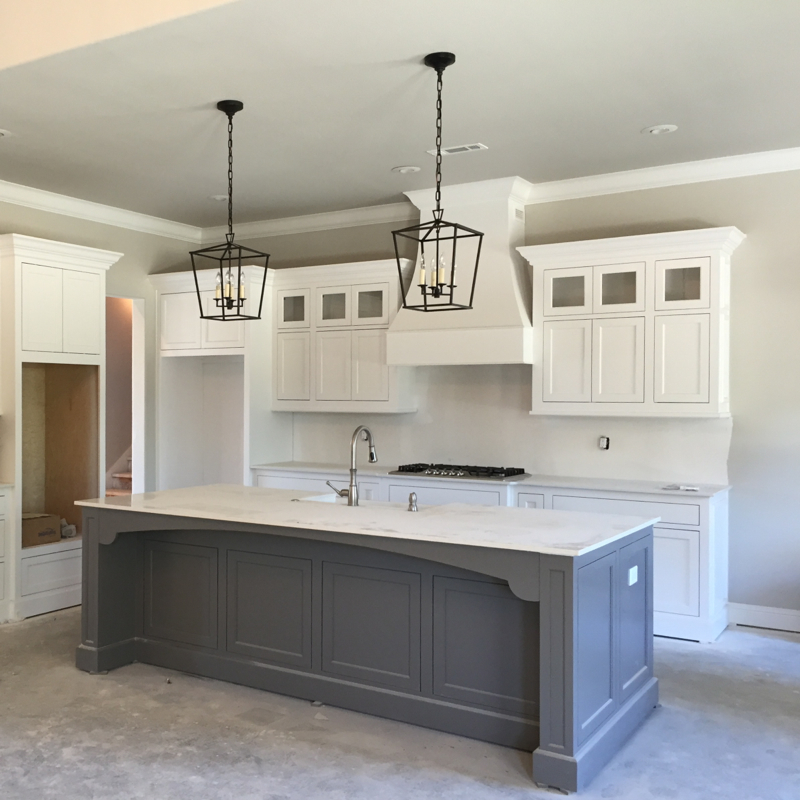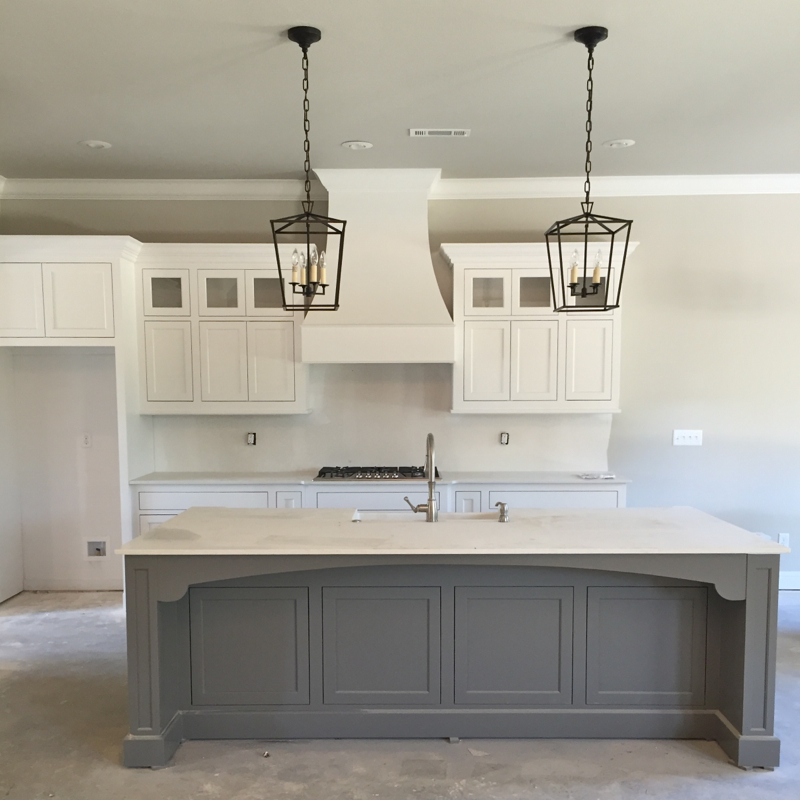 I love the shape of this rustic brown cage light by Quoizel Lighting.  We hung this beauty in our foyer and it gives off the perfect amount of light!  Our sweet friends at Lighting Design Company via Instagram were incredibly helpful with the selection of this light!  So happy with our choice!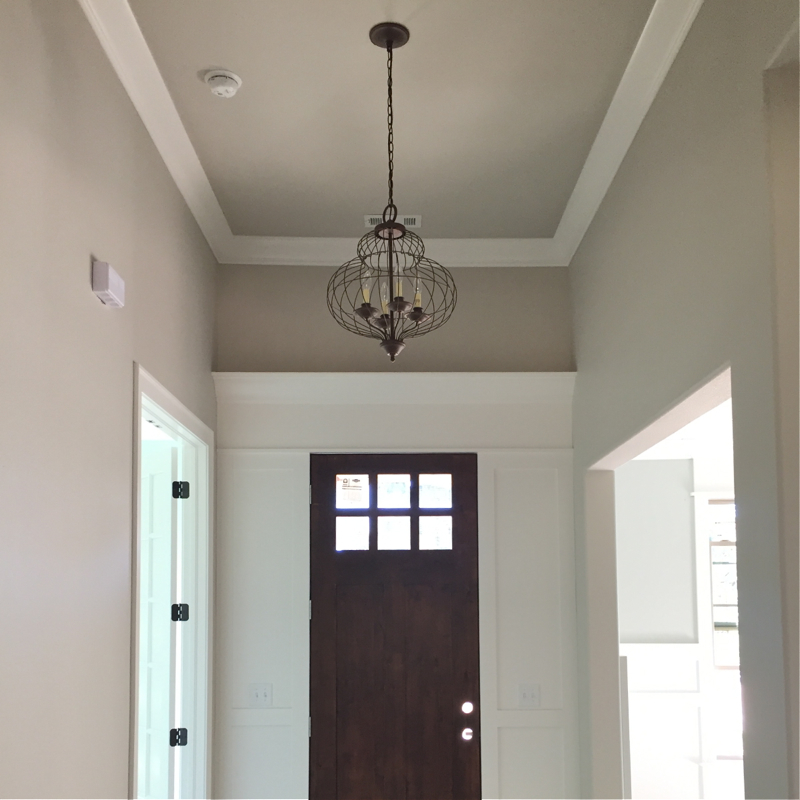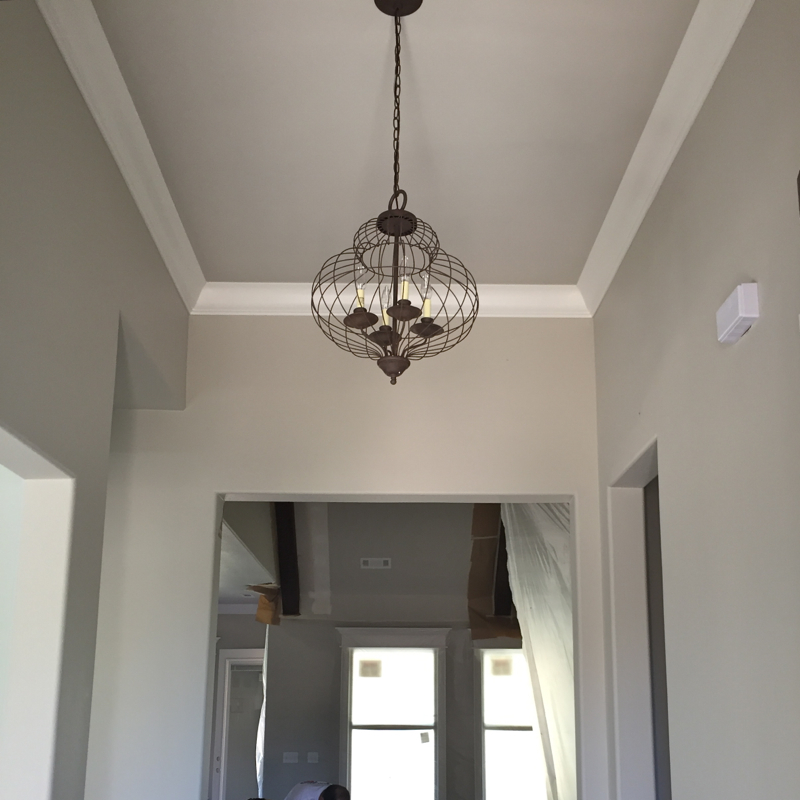 The wood beaded chandelier (to the right of the entry) is from my friends at Antique Farm House.  I've had this light (waiting to be hung) for months!   Soon after it arrived, we learned we were moving, so I decided to save it for our new home.  It currently hangs in our office/piano room, but I have plans to move it to the master bathroom above our corner tub.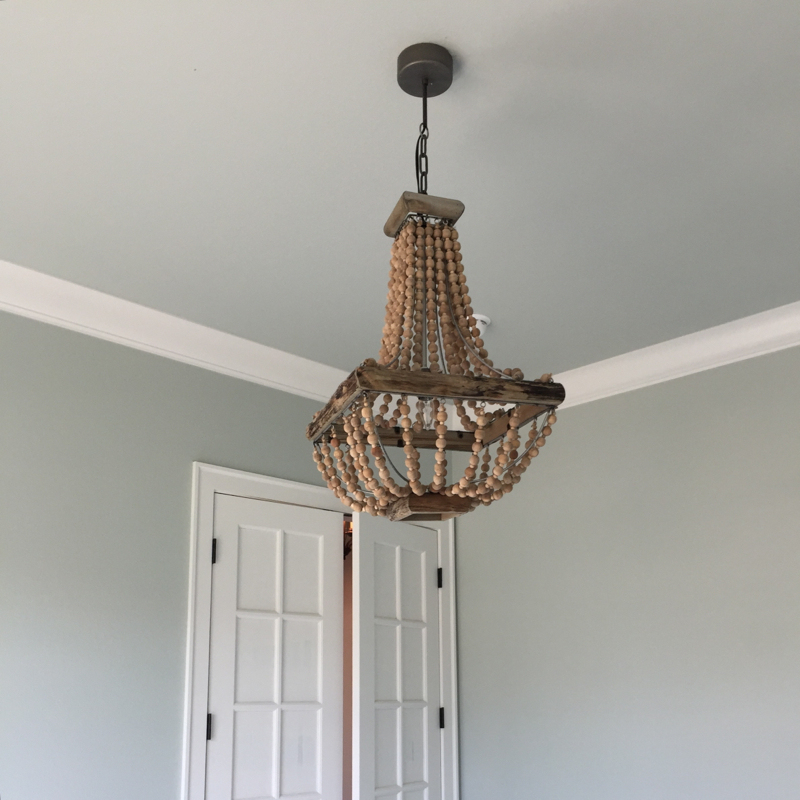 This sweet light has been with us for over 12 years.  It hung in our daughters nursery for several years and when we moved from North Dallas, we brought it with us.  If you've followed our IG journey for awhile, you may recognize it as the light that hung in the piano room.  This sentimental momma couldn't leave it behind, so we brought it with us (yet again) to hang in her closet.  It received a fresh coat of satin white spray paint the night before it was installed.  I love the angle of the wall in her closet, it's the perfect touch of charm and character.  This light was purchased at Lowes (circa 2004) and is made by Waverly.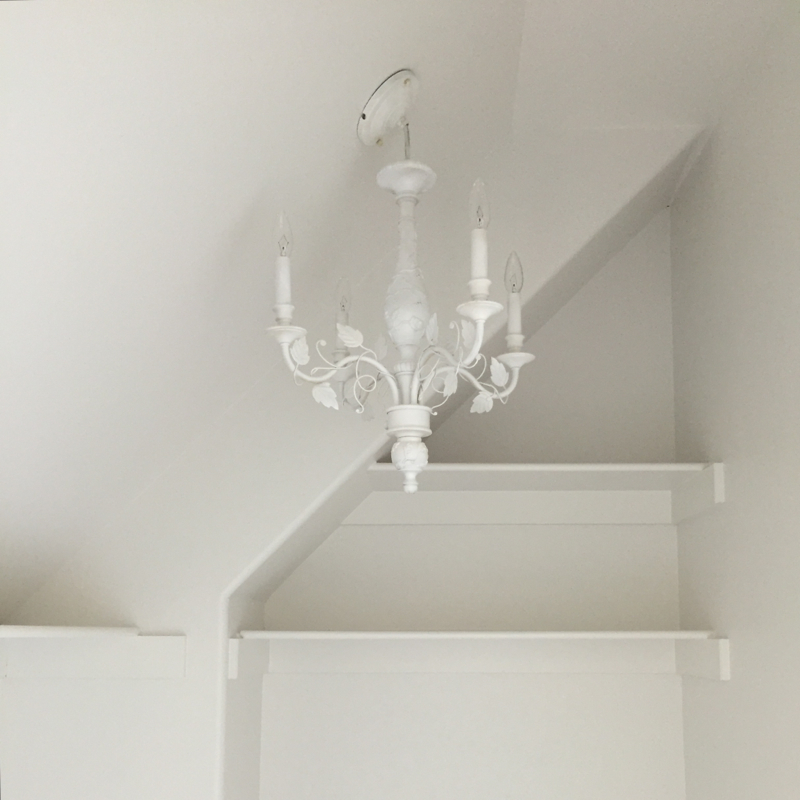 The 3-light vanity lights in all our bathrooms are called Bridwell by Jeremiah Lighting.  I chose a classic streamline look that we can enjoy for years to come.  This is our master bathroom, where you can see the adjoining light in the reflection.  Thank goodness for his and her bathroom areas.. Who's with me?  My husband is the neat one and is happy to have his own space where (hopefully) my things will not take over… So he thinks! :)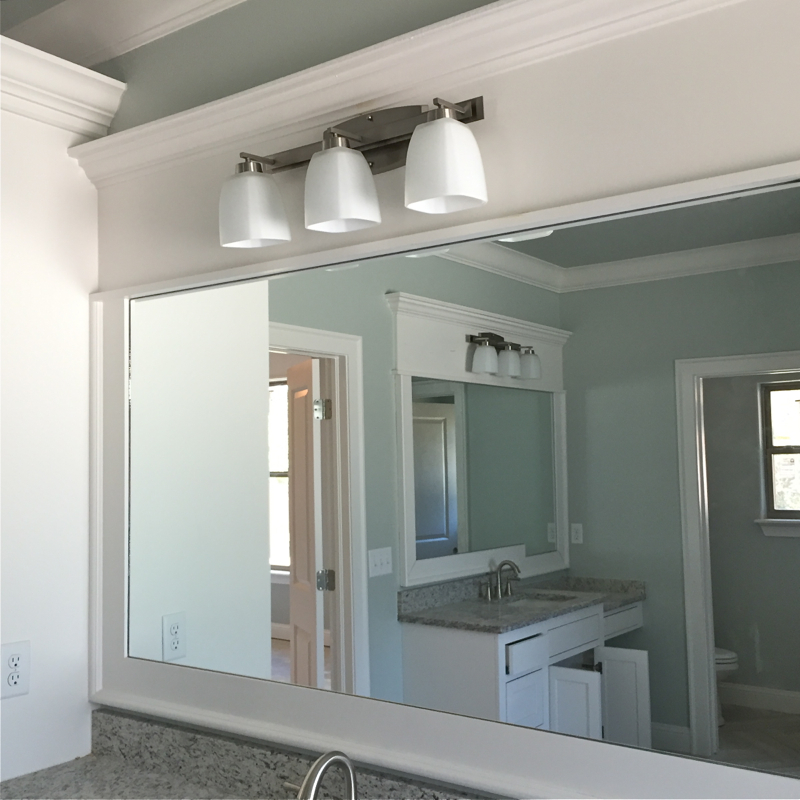 The dining room light was an easy decision!  I knew exactly what I wanted and this vintage beauty by Cyan Design sealed the deal!  It's called the Provence 6-light candle chandelier.  I love the beads, distressed detail and vintage charm of this light.  I'm already envisioning a pretty farmhouse table with our beloved antique dough bowl in the center, filled with colorful fall foliage!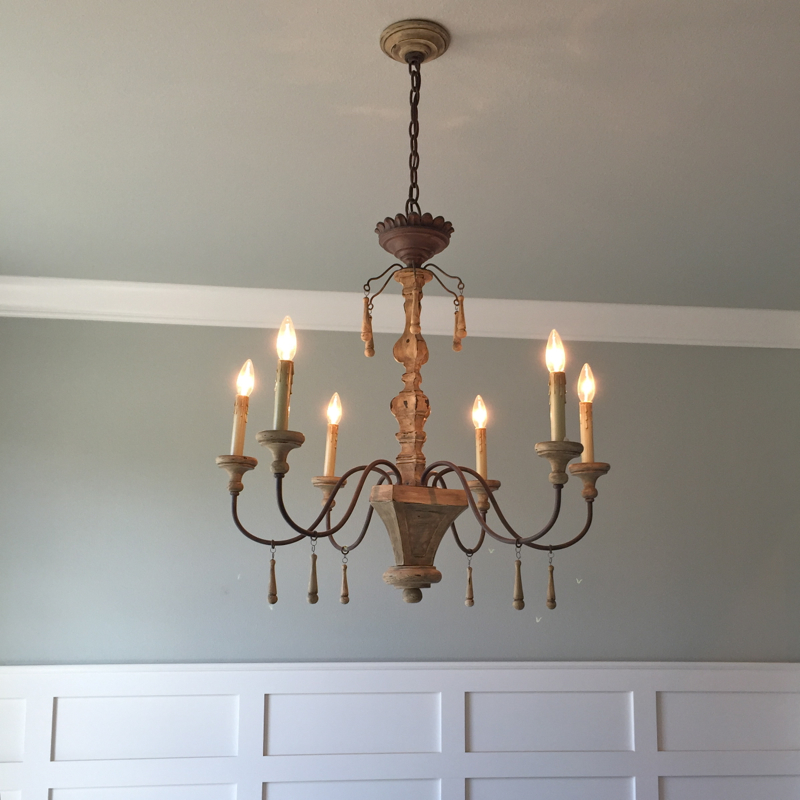 My husband wasn't thrilled when I told him early on in the building process that I didn't want a ceiling fan in the master bedroom.  After much moaning and groaning, he reluctantly gave in and agreed to this beautiful light!  It's from the Quoizel Voyager Collection.  Our friends at Lighting Design Company came through for us again.. They are so friendly and knowledgeable!  I highly recommend them when choosing new lighting!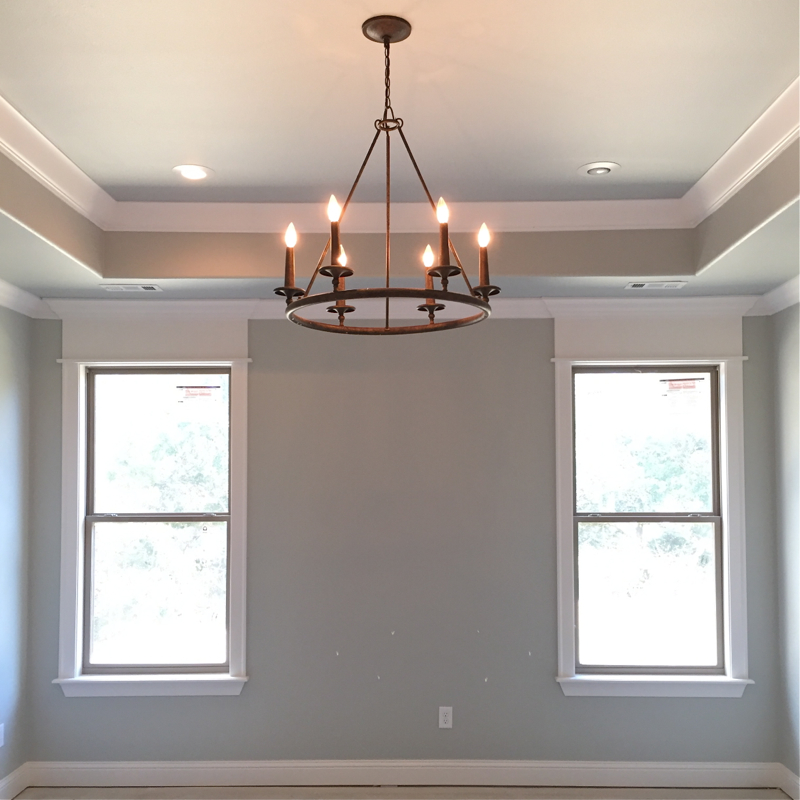 At the last minute, I had the opportunity to switch out our breakfast nook light.  The first one was not hanging straight and I felt the space needed some texture amongst all the wrought iron lighting in the room.  I love this rustic wood chandelier… The perfect amount of texture!  If you're interested in purchasing this light, you must go through a retailer that sells Creative Co-Op.  You can contact your local lighting showroom to find out if they carry this brand.
I recently changed the bulbs to Edison and I love it even more!  It measures 27 inches round by 27 inches high; made of wood and metal.  Please note:  Their website doesn't have a name for this light, so feel free to show them this picture to find out where you can buy your own.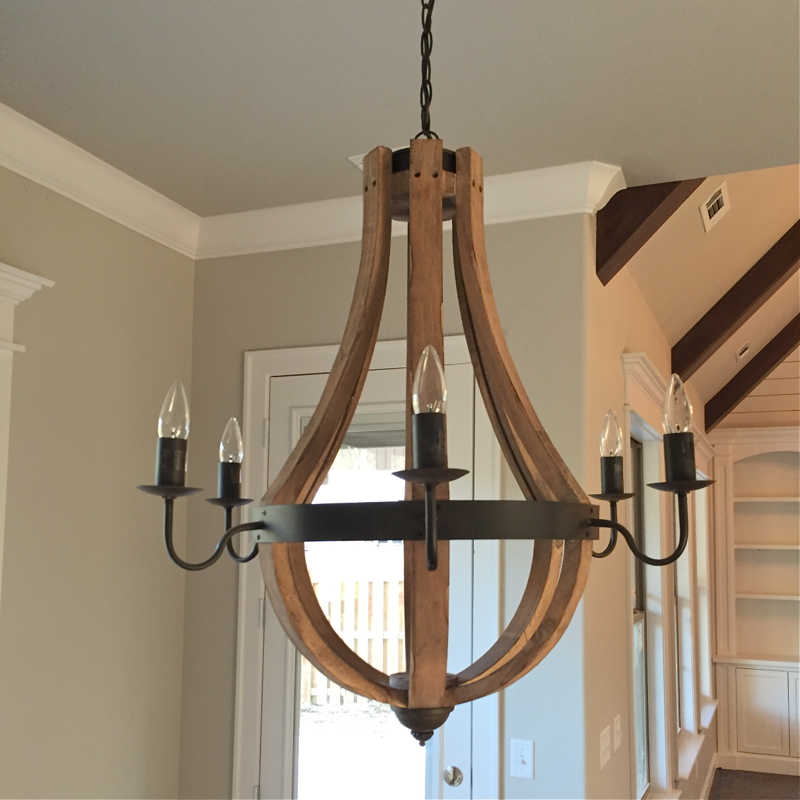 And last, but certainly not least… Our living room light!  This is the Pearson Chandelier from Capital Lighting.  This light is everything… It's the perfect size and fit for this room!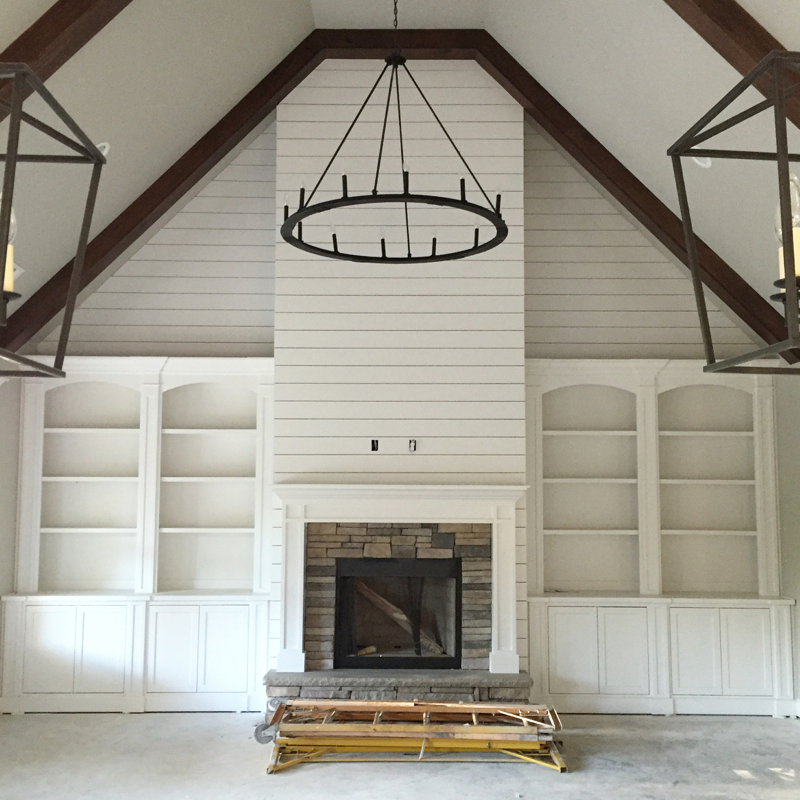 We received electricity today, so thought I'd add a few pictures with the lights on!  Thanks for your patience as I gather sources to share of our home build.  I hope you find these lighting sources of our modern farmhouse helpful!  Choosing lighting for your home can be very challenging.  My advice is to find a style that you love, so your lighting flows nicely from room to room.  I'll be working on a few more blog posts soon regarding our countertops and flooring.  Have a great weekend!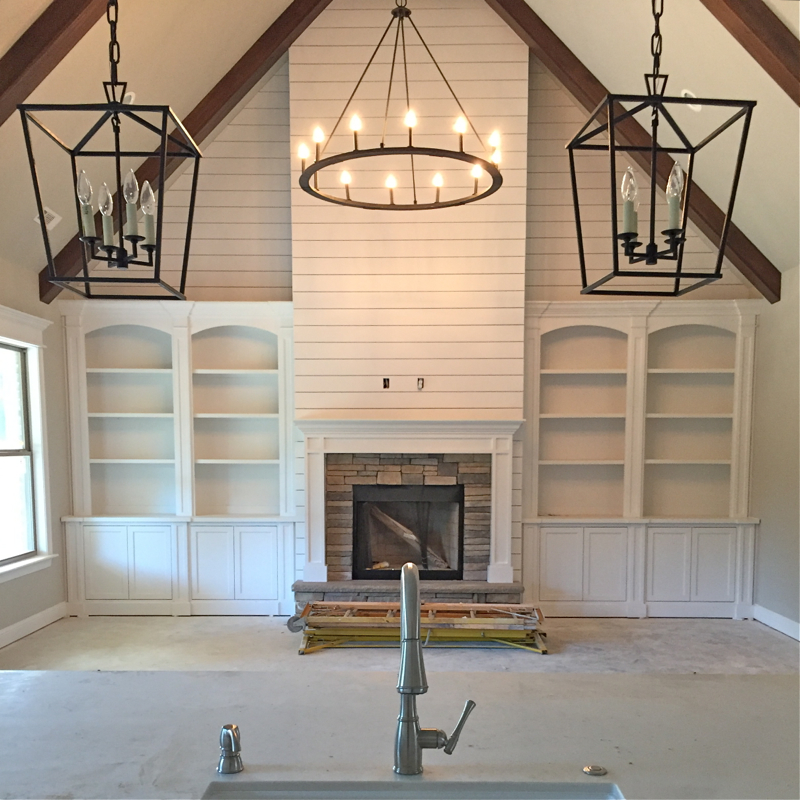 Blessings,