We are beyond touched by the interest and kind comments regarding our new home.  Thanks so much for sharing in our exciting journey!  We feel truly blessed to be able to build our dream home, it's been a long time coming!  This post will cover the details of our kitchen countertops and tile details of our modern farmhouse.  Please excuse the pictures… They are quick shots with our iPhones of the daily progress.  Once we move in and decorate, the quality will be much better. :)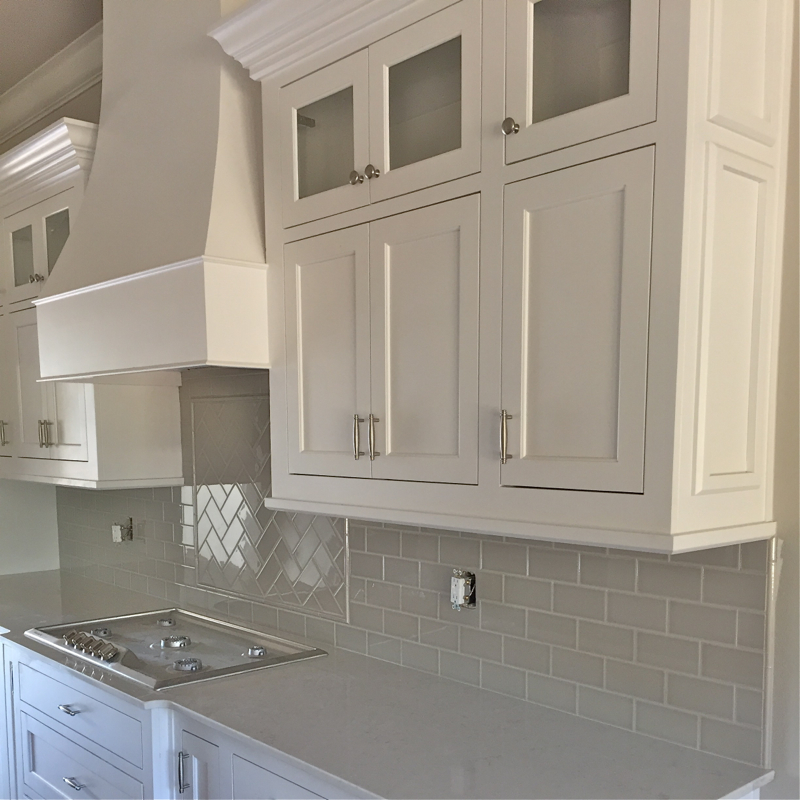 Our kitchen countertops are made of Quartz with veins of gray and taupe.  The overall color is a soft cream that works nicely with our kitchen cabinets, which are painted in SW Snowbound.  I'm a sentimental gal, so when I heard the name was the same as my late grandma, Virginia, I loved them even more.  They are a 2 cm thickness and are used on all the surfaces in the kitchen, including the island.  There was enough left over to use in our half bath, which I was very happy about!  The brand is called Santa Margherita.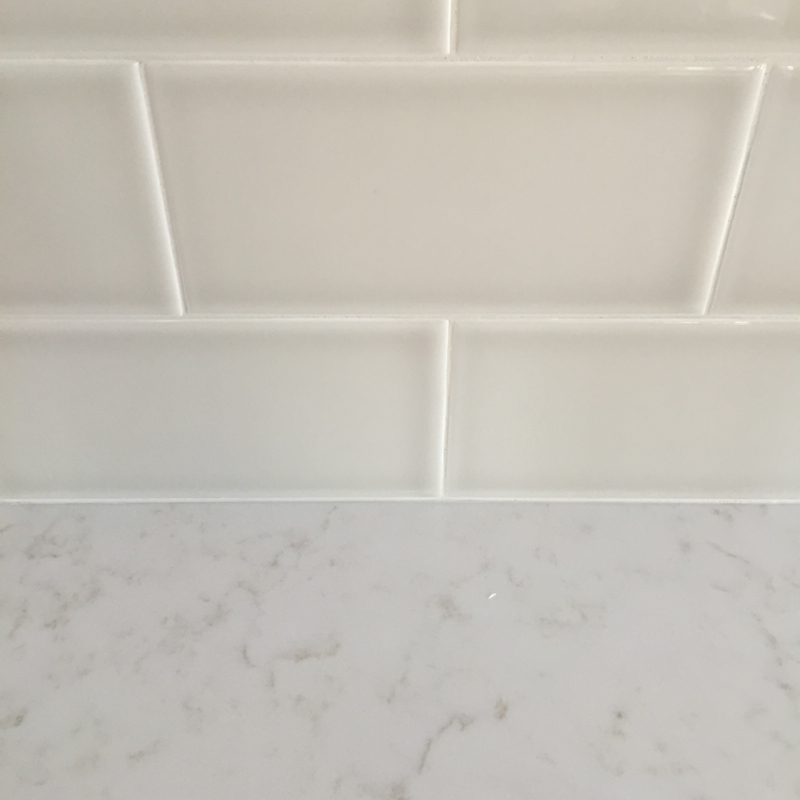 Our kitchen backsplash was a last minute switch from the original.  You may have seen a swatch of choices I made in late July on my Instagram account.  Well, fast forward to two weeks ago when I saw my choice in another kitchen… Minor panic attack!  It was not at all what I had envisioned… It was too dark and the texture of the tile would've thrown off the whole look.  My gut was telling me I wouldn't like it and without hesitation, I asked to switch it!  They quickly put a hold on my order and I was there the next morning to make the change.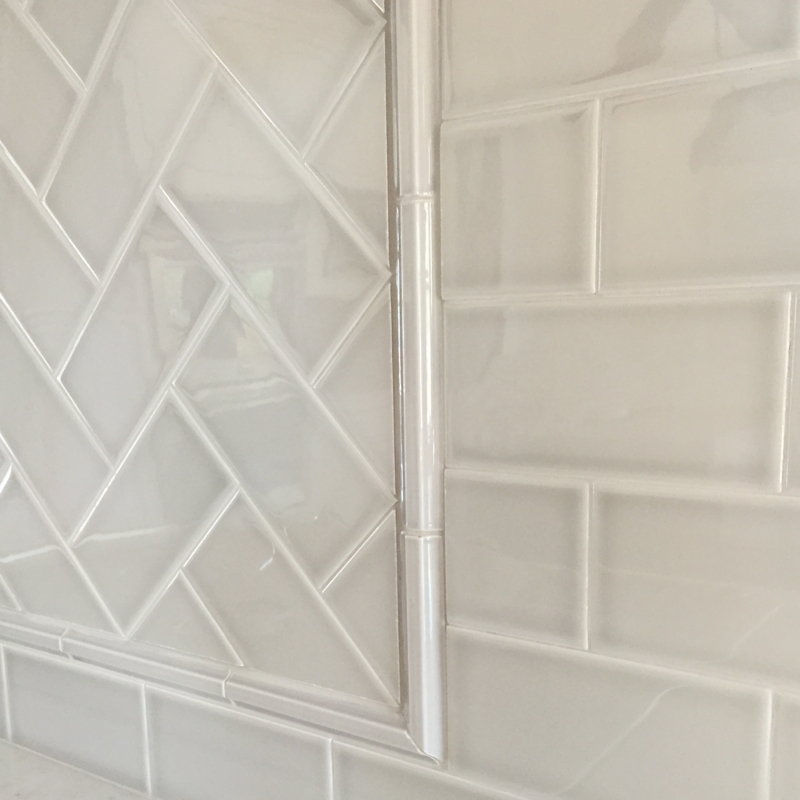 My sweet hubby even offered to let me upgrade, knowing it was going to affect the look and flow of the kitchen; he wanted me to be sure!  Our biggest concern was, would this set us back?  I spoke with the showroom designer over the phone and told her what I wanted… A classic and timeless look.  A soft gray to give it a nice contrast with our counters and cabinets.  Luckily, she came to my rescue when she presented me with this beautiful gray ceramic subway tile.  It was in stock and within our budget… Making us happy and on schedule!  We matched it up with the counters and selected a grout… It was the perfect match!  The color is called Pumice by H-Line.  I love the subtle shading around the edges and the trim around the herringbone completes the look beautifully!  Our grout is called bleached wood and is a similar shade to our countertops.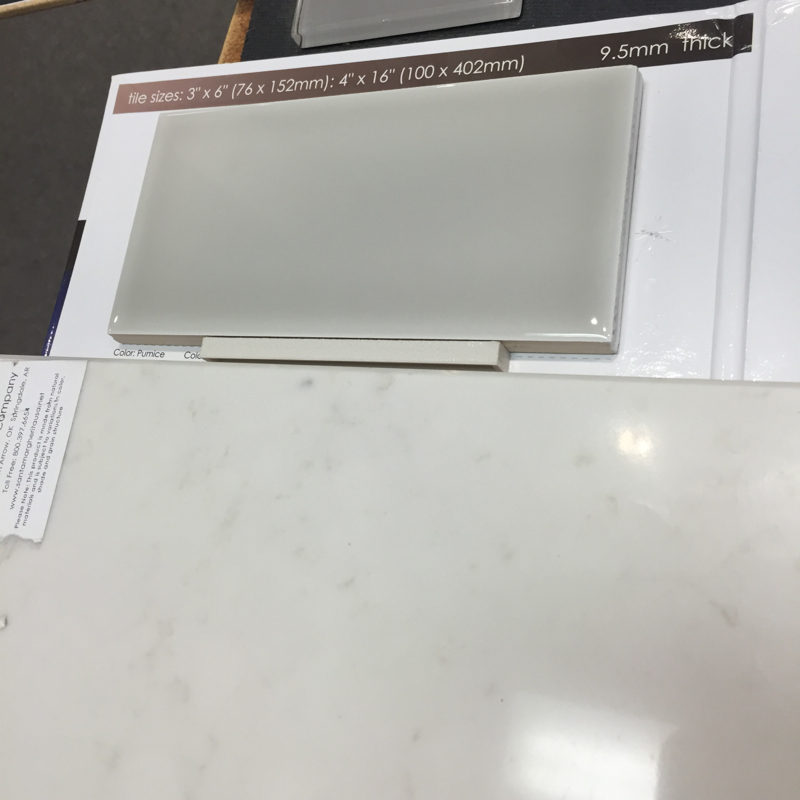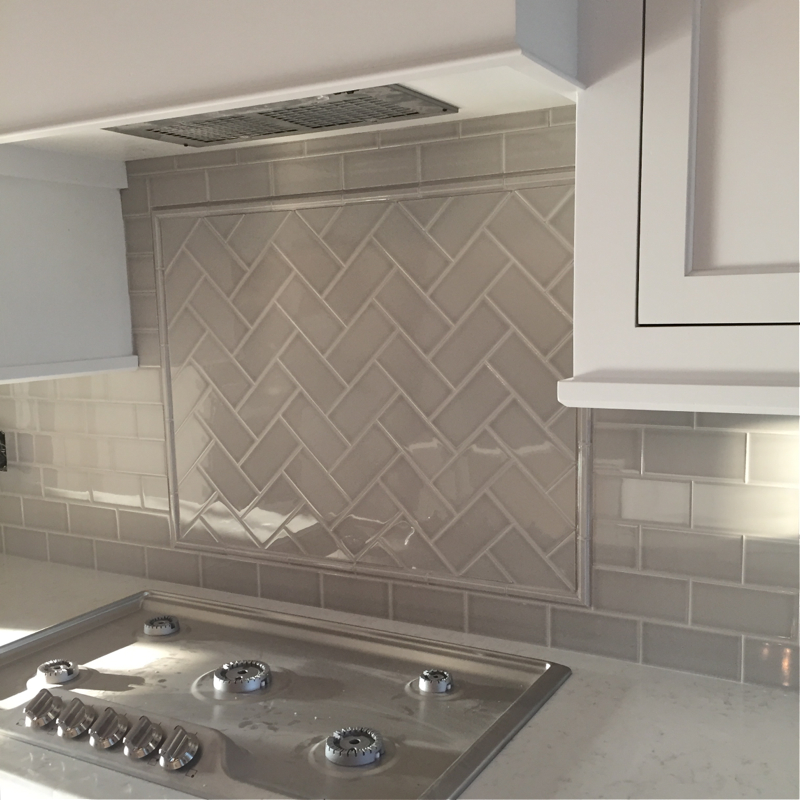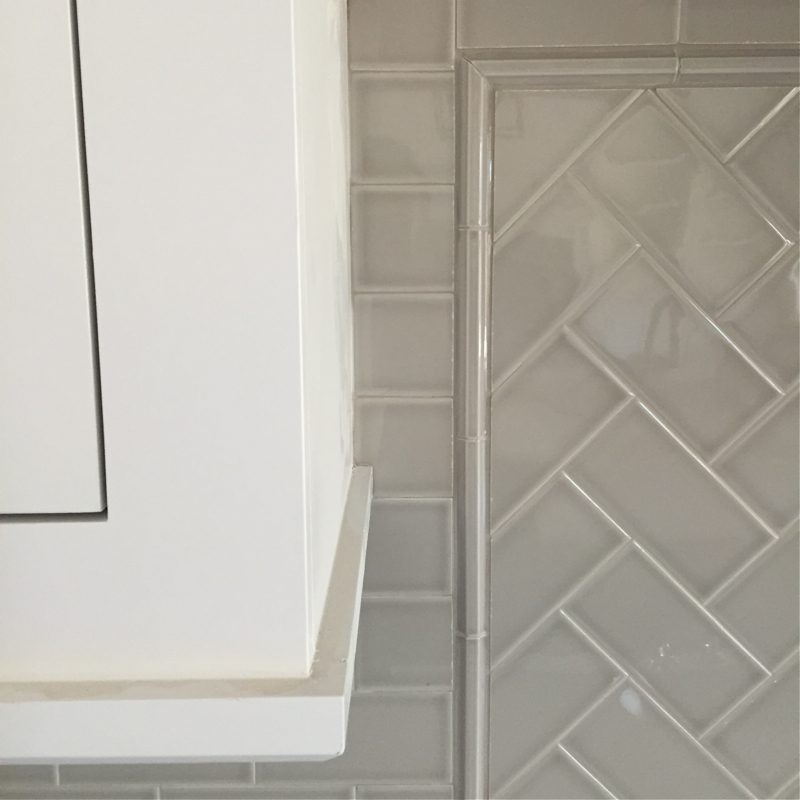 Moving on to our master bathroom… We used a 3 cm granite called Verona White.  This went in our master bathroom, guest bathroom, kids bathroom and laundry room.  It's a great blend of color with subtle flecks of cranberry throughout.   It wasn't my first choice, but once I saw it with the tiling and cabinet color, I loved it!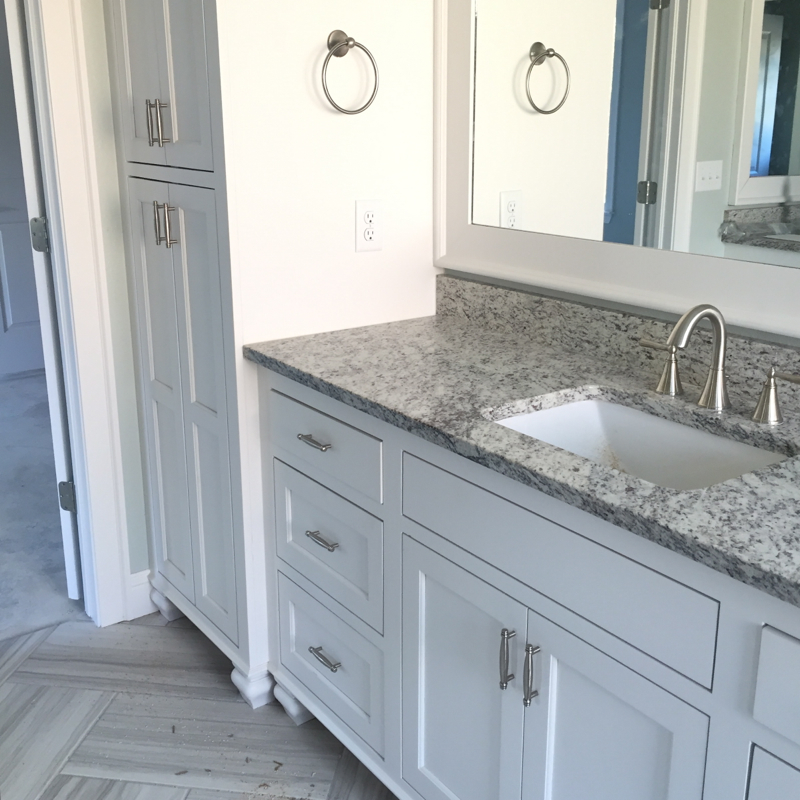 Our flooring in the master bathroom is a 1 foot by 2 foot tile by Interceramic.  The color is a light gray called Grigio Belfiore.  It gives the look of wood grain and has a nice texture, making it less slip resistant.  It's laid in a herringbone pattern and carried into our master closet to keep the flow of the room consistent.  The grout color used with this tile is called Driftwood.  I'm envisioning a beautiful soft runner down the center of our walk-in closet!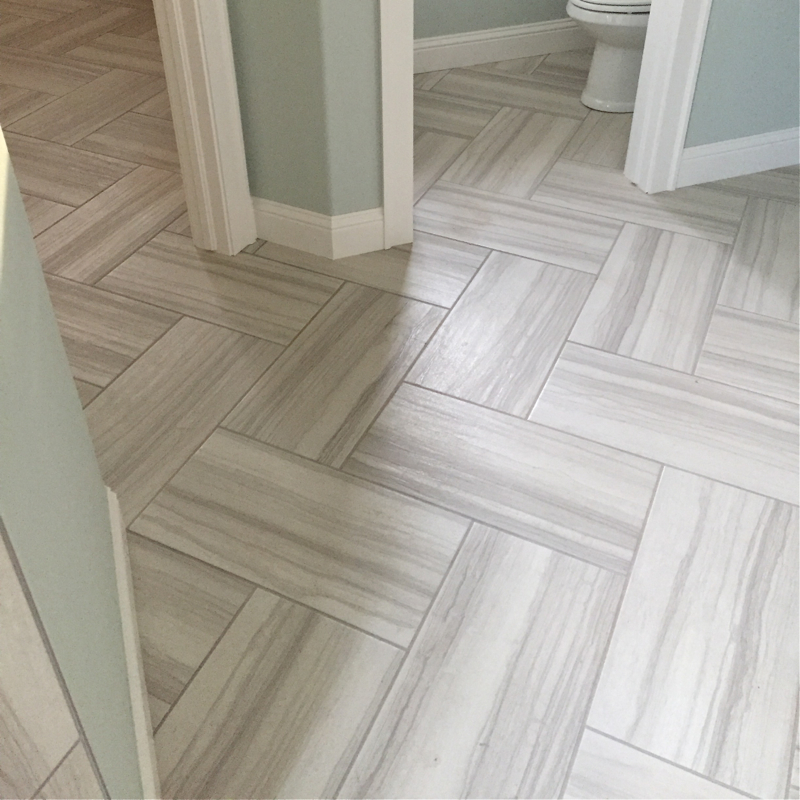 The tile that seems to be getting the most attention is the Merola Tile from Home Depot.  This was a personal purchase that I made, because let's face it… I had to have this gorgeous tile in our home!  It's described as a Twenties Classic in 7 3/4 in by 7 3/4 in size.  With the half bath being rather deep, I chose this space, knowing we would see a lot of it.  I couldn't be more happy with the outcome!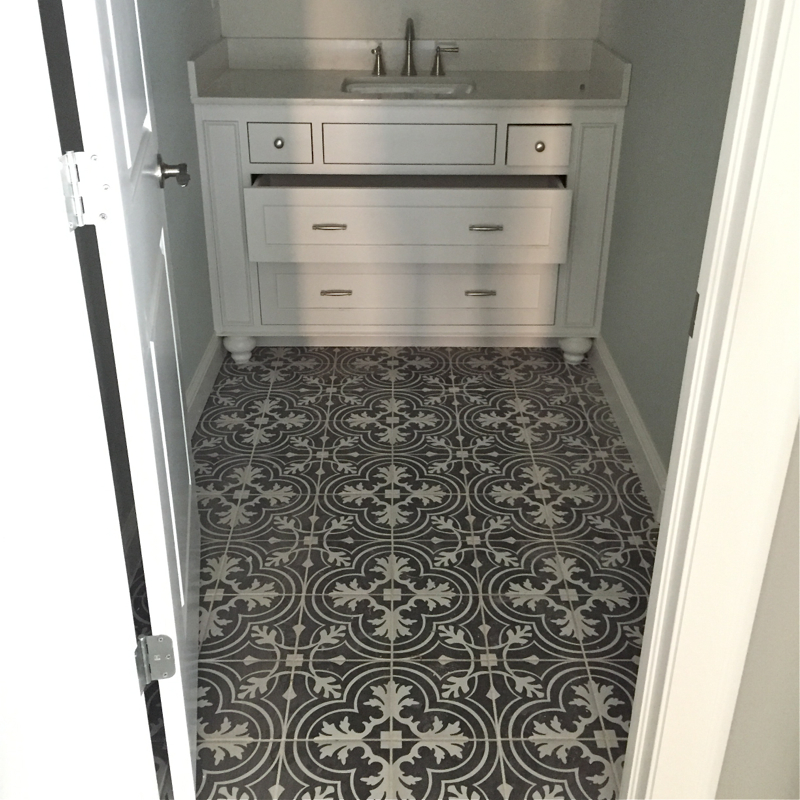 I wanted the cabinet in our half bath to resemble a piece of furniture, so I designed it with feet and requested it to be wall to wall.  The remaining Virginia Quartz and hardware completes the look!
I'll be doing a separate blog post on the wood floors and upstairs flooring, once we have everything installed and cleaned.  The floors are just too dusty at this stage and wouldn't be represented well.  Thank you for your interest in our home.  I hope you find these kitchen countertops and tile details of our modern farmhouse helpful when deciding to design your own home.
Blessings,