Hi friends! This post is long overdue, and for that I'm sorry! I should warn you now, this post will not be filled with gorgeous decor photos, but I promise, you WILL see dramatic before and afters! That's just as exciting as fancy decor pics, right? In this post, we'll focus on how to add character and contrast to a boring hallway! You won't believe the results! Good-bye dreary gray flooring… Hello warmth, character and contrast!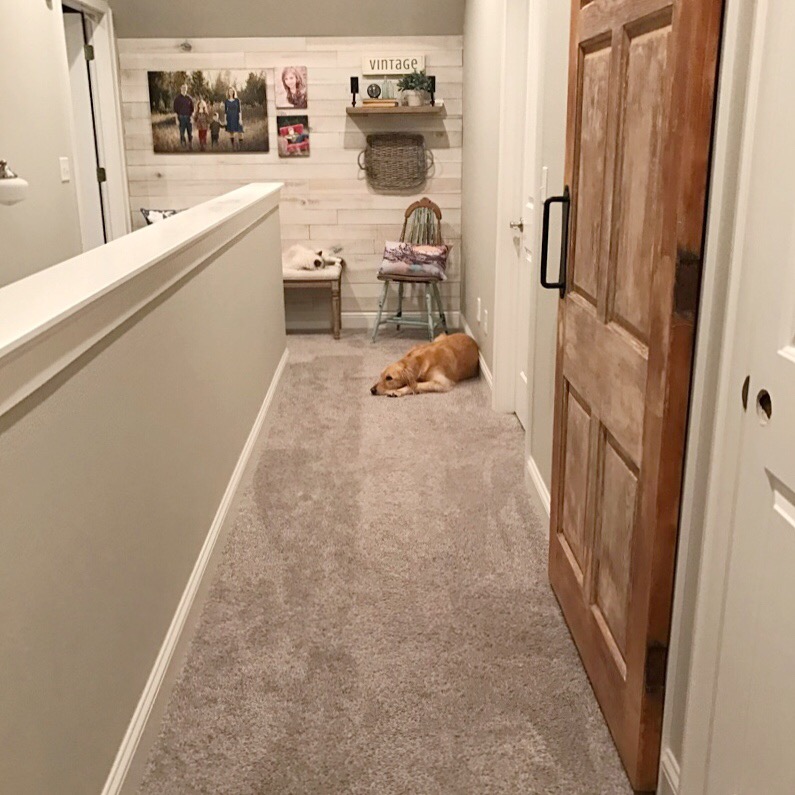 The changes I'm about to reveal would not have been possible without the partnership of a local flooring company in NW Arkansas, RB's Flooring. They are located in Springdale, AR and have an amazing showroom of the latest and trending flooring options! As a part of our collaboration, I was asked to pick a space in our home that I wanted to update. Now, before you go scratching your head and asking yourself, "didn't she just move in?" The answer is yes, we have lived in our home just under a year now. Admittedly, I regret a few of the flooring choices I chose last year… I was in a bit of a time crunch when deciding our flooring and let's just say, I went a little gray crazy! Here's a little close-up of the gray transition of carpet and tile in our upstairs hallway. Lacks major contrast, doesn't it?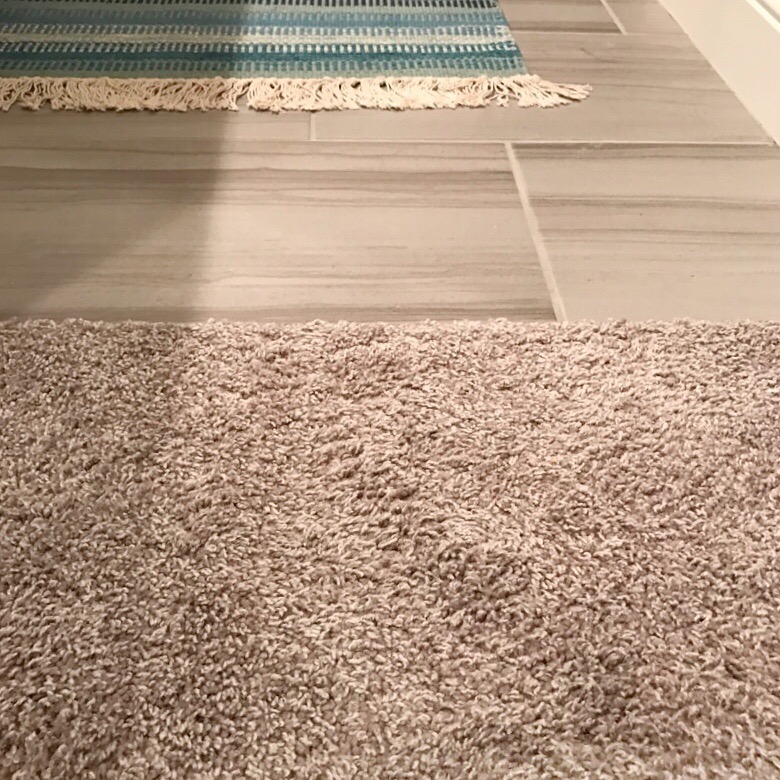 Needless to say, I was beyond excited and grateful when RB's Flooring approached me with this opportunity to partner. So, without further ado, here are the before photos of our upstairs hallway and its lack of character.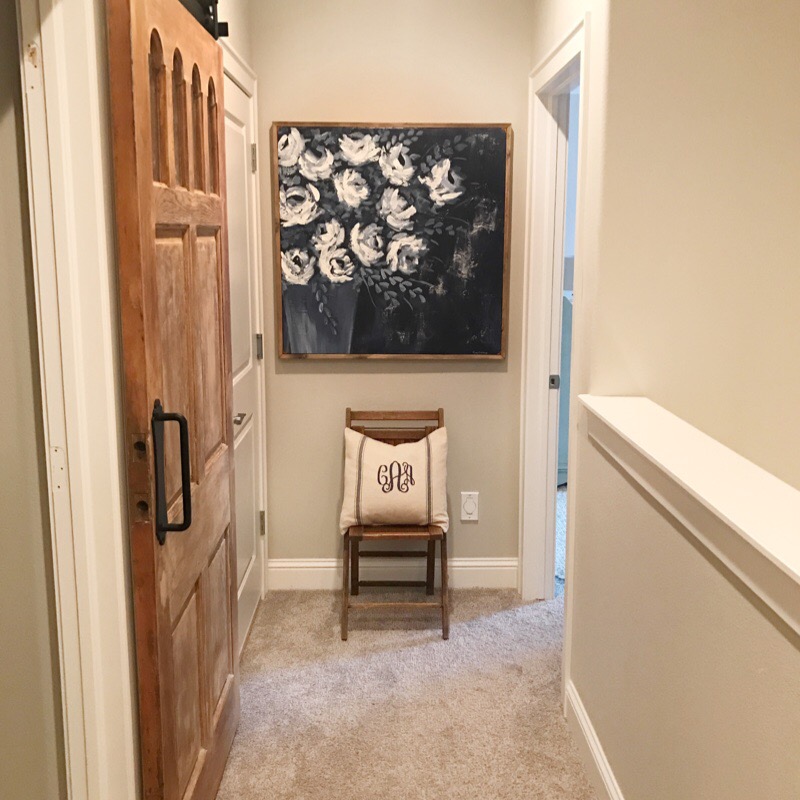 Let's admit it… The decor is the only thing going for this hallway. Little did I know, that the carpet we chose would show up lavender in photos… A decor gals worst nightmare! Does anyone else see it? No? Just me? Okay, moving on… Here's the other side of the hallway. Again, the accent wall and wall art (and our sweet fur babes) are definitely a distraction!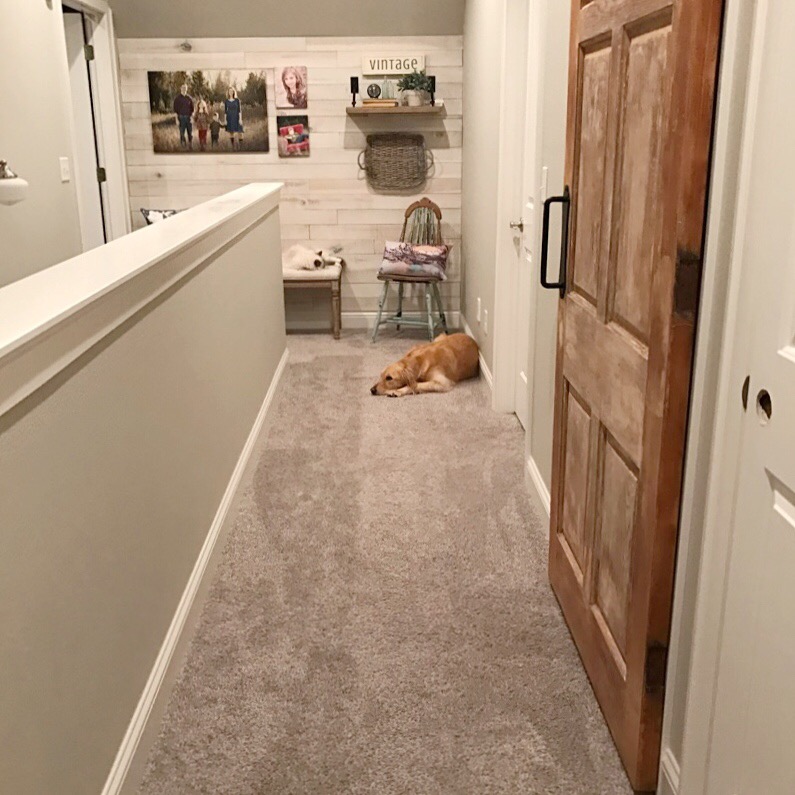 My second job is just minutes from their showroom, so once a week, I would visit, look at floor samples and bring a few home to test in our space. I wanted to be sure (this time) that I picked a warm and complimenting color that flowed with the existing barn door and accent wall. Their gorgeous selection of hardwoods had my head spinning, but Katherine and Irene at RB's put my worries to rest with their expertise and knowledge of their products. They also came out to our house and took measurements prior to selection. This helped me to know the type of flooring I needed and helped to narrow down my choices.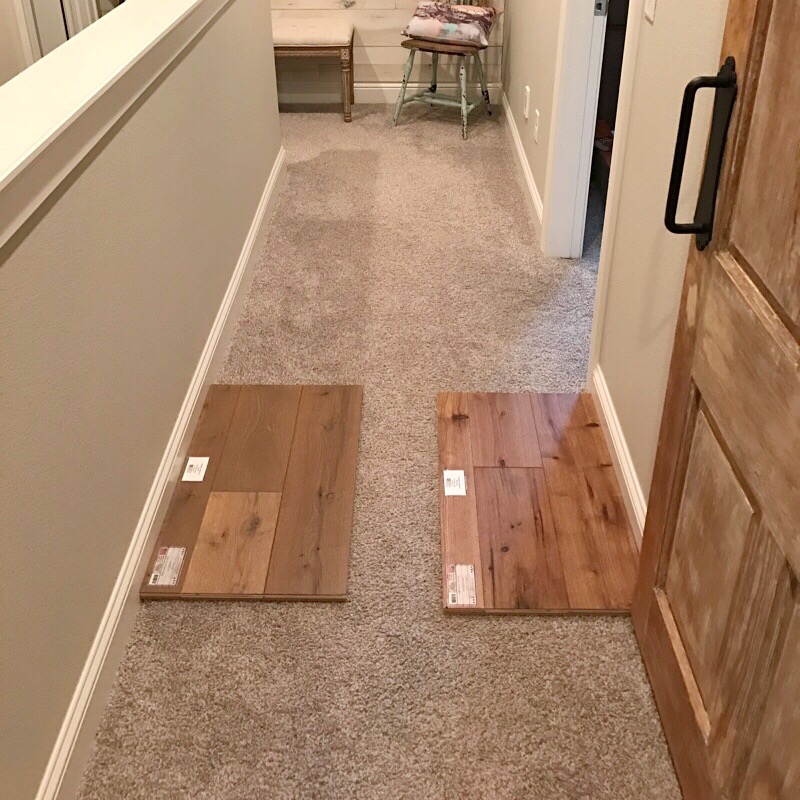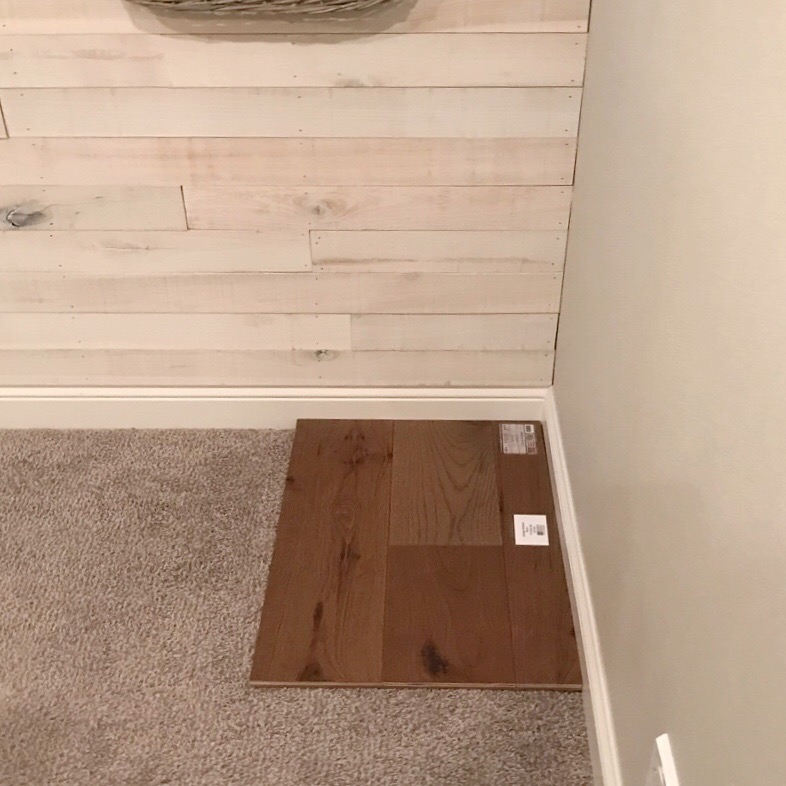 This was my weekly routine for a few weeks… Coming home with different samples that I thought would flow and could envision in the space. I loved how this one in particular looked with our white washed walls and the old door turned barn door. You may remember when I took a poll on IG stories and asked your opinion. In the end, the left choice won! This photo looks like a scene from a Star Wars movie with the words moving up the screen. I digress…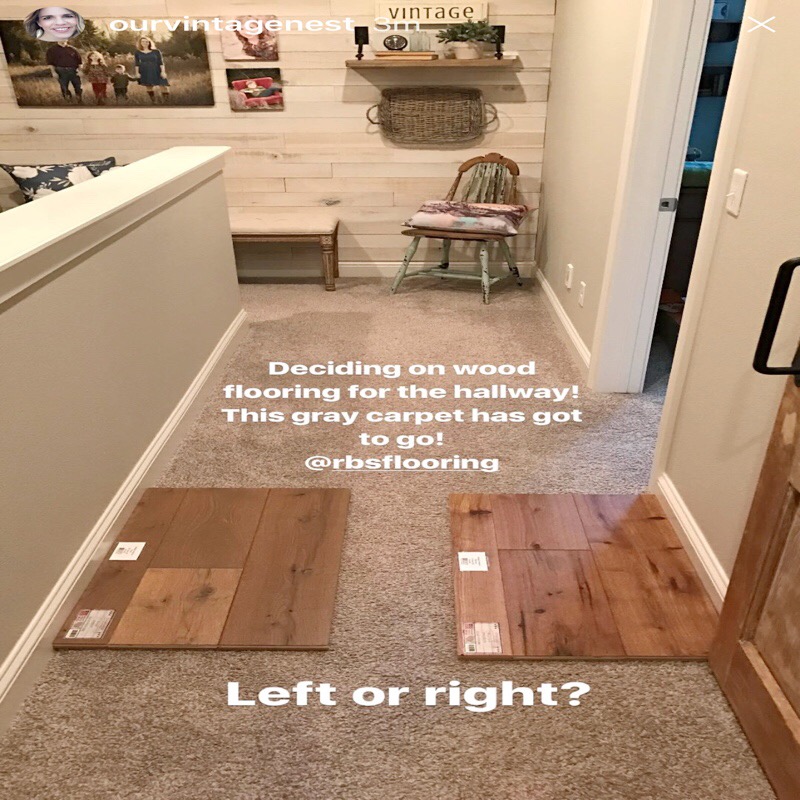 Now, I'm sure you're wondering about the gray tile in the adjoining bathroom. It just made sense to replace both to make for a more dramatic result. The replacement of that was an easy choice, as I wish I had chosen it when we built. At the time of our build, the tile I wanted was a special order and would've put us behind schedule. The previous flooring was a gray wood grain that just didn't provide enough contrast in this space. Here are a few before shots of the bathroom before the demo started.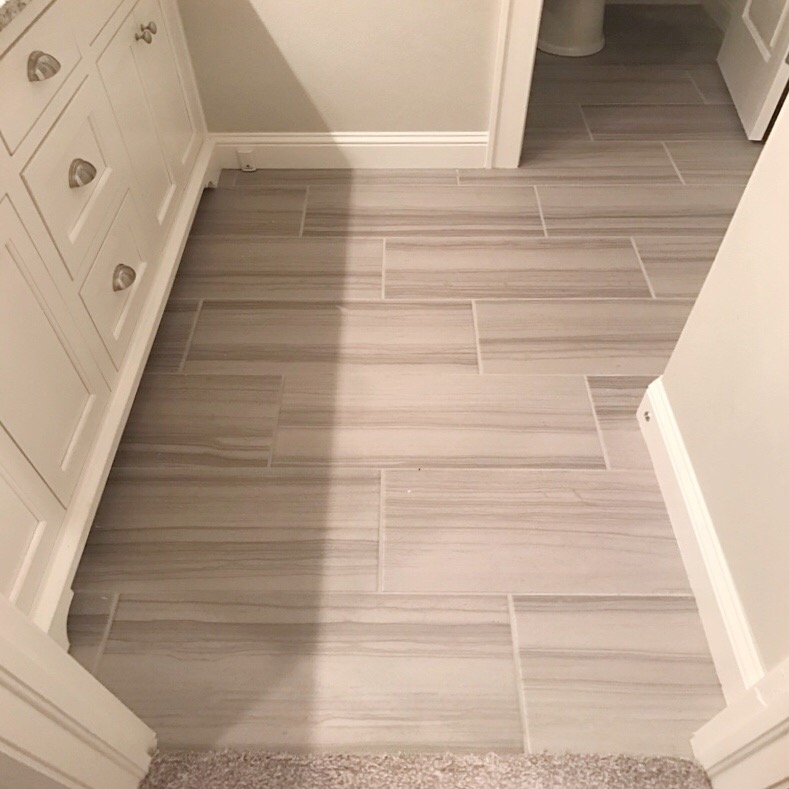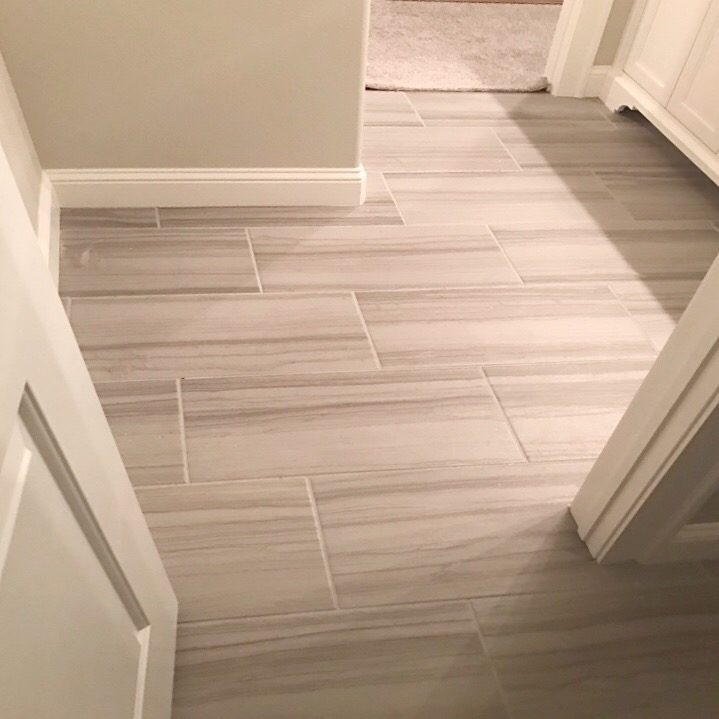 The kids bathroom flooring would no doubt be a gorgeous 2 inch white hex tile in a matte finish! I once saw it in a friends home and fell in love! We chose the same grout color she did too… Winter Gray, a beautiful contrast with our light gray walls in SW Agreeable Gray! The hallway is also this color, the only gray in this space I do not regret… It's the perfect fool proof gray!
Here is the information on the 2″ hex tile, for those of you interested…
Vendor – BPI
Line – Retro II
Product – 2″ Soho White matte hexagon
Grout color – Winter Gray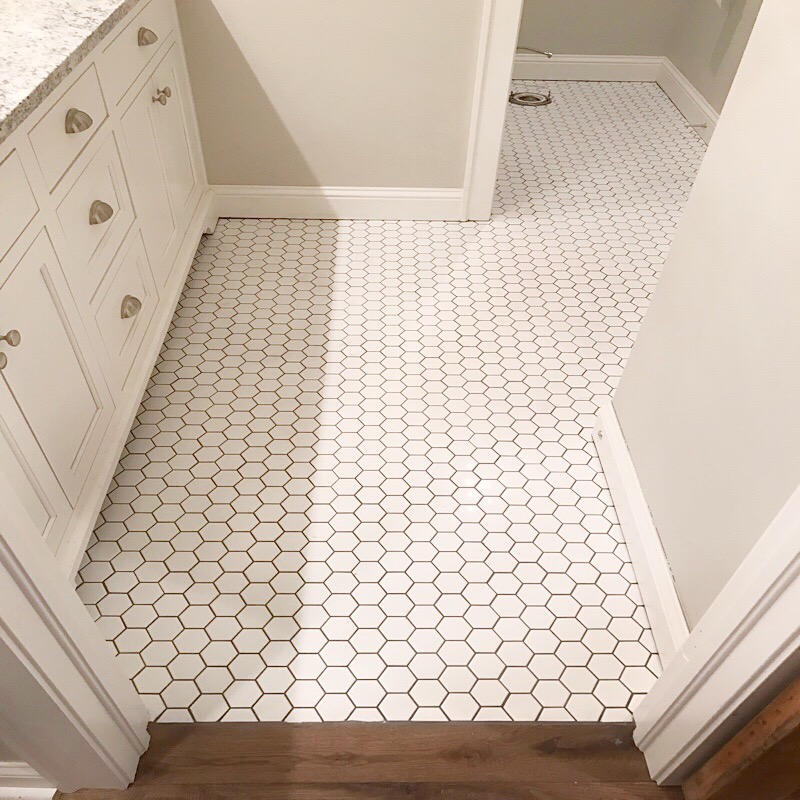 Moving right along to the after photos, cause I can't hardly stand the suspense! So, one more time… Here's the before…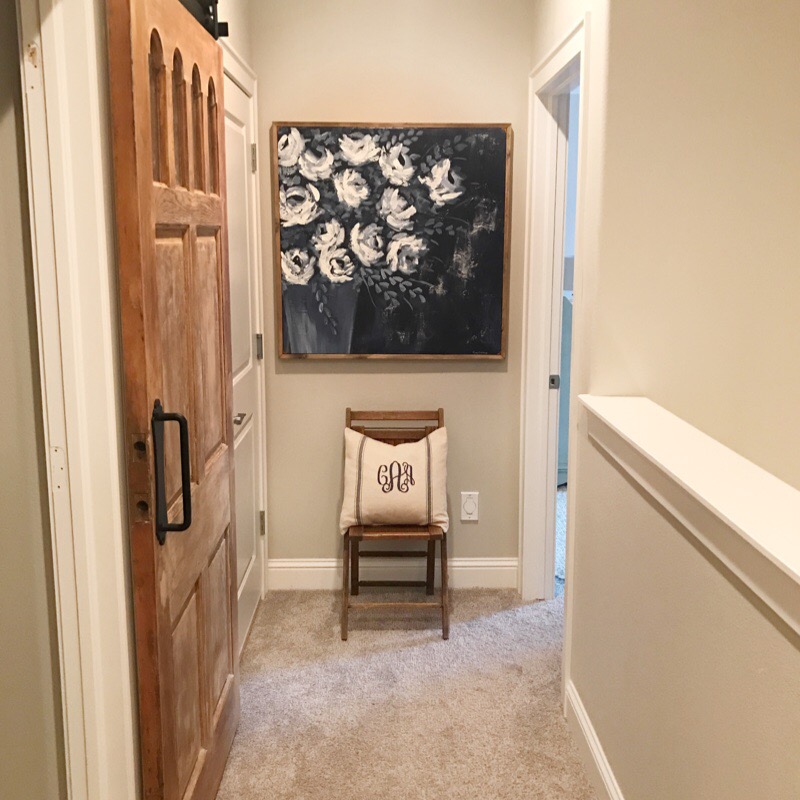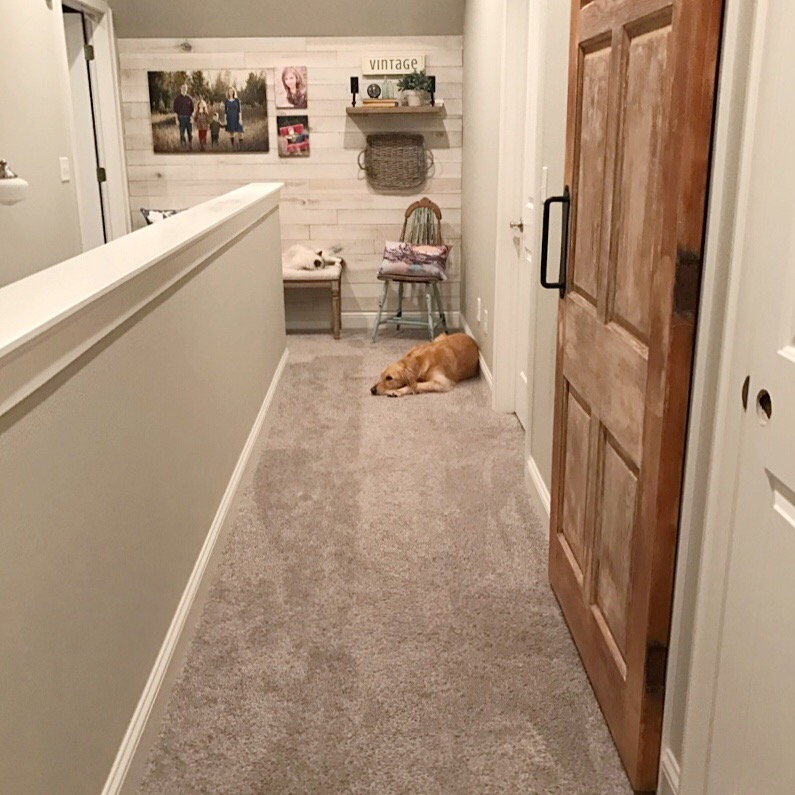 And now the gorgeous after….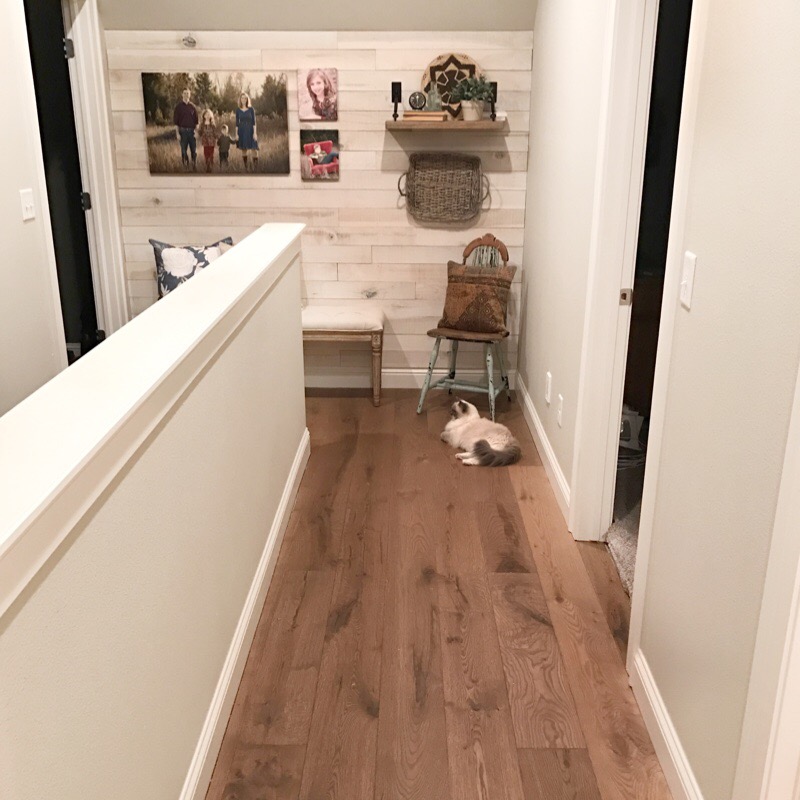 Here's the information on our gorgeous hardwoods…
Vendor – T&L Distributing
Brand – Heritage Hardwood
Collection – Color Touch
Color – Wheat
Tree Species – Sliced White Oak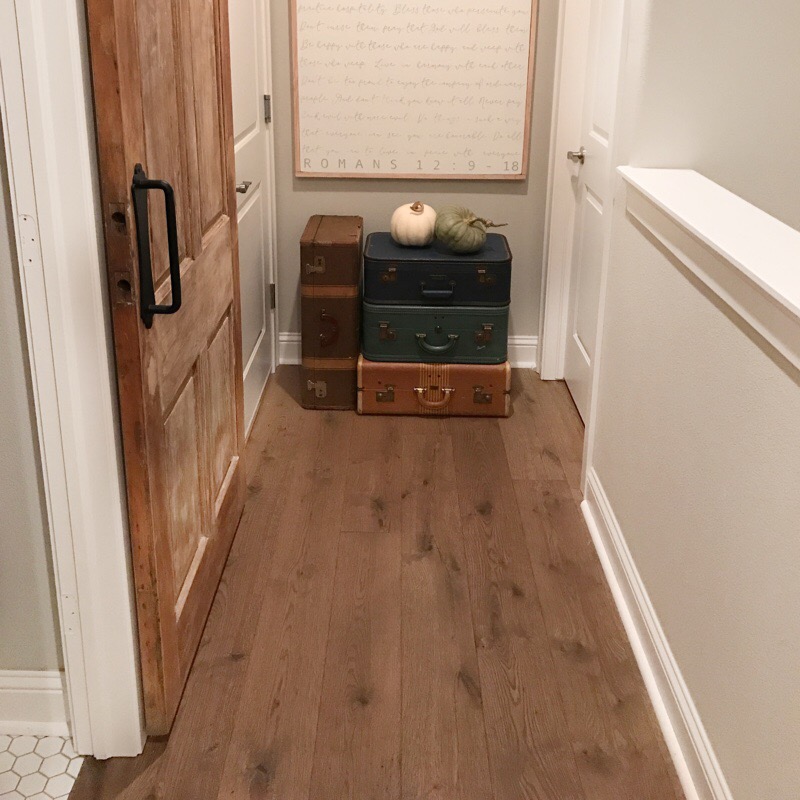 Loving the beautiful contrast of these rich hardwoods with this 2″ white hex tile… A classic look we will certainly enjoy for years to come!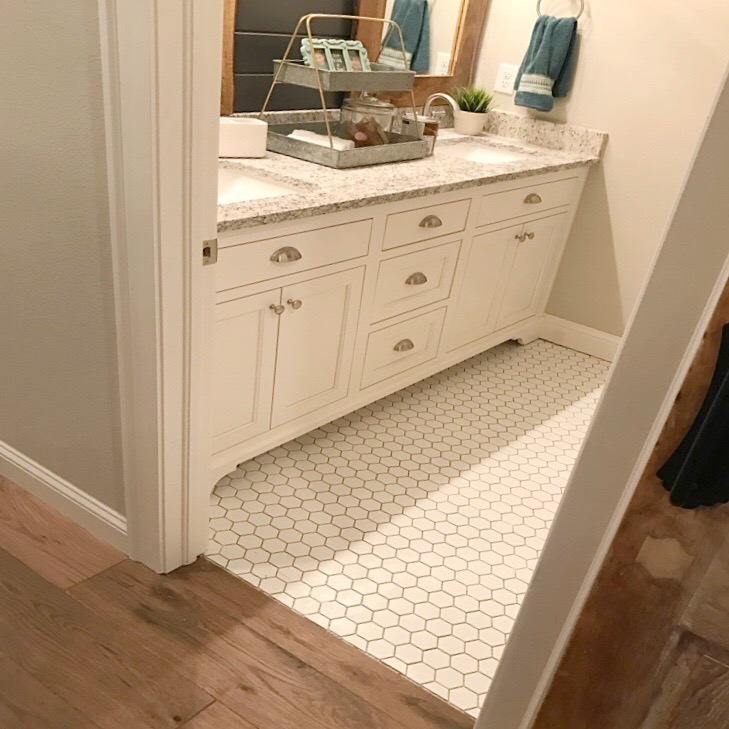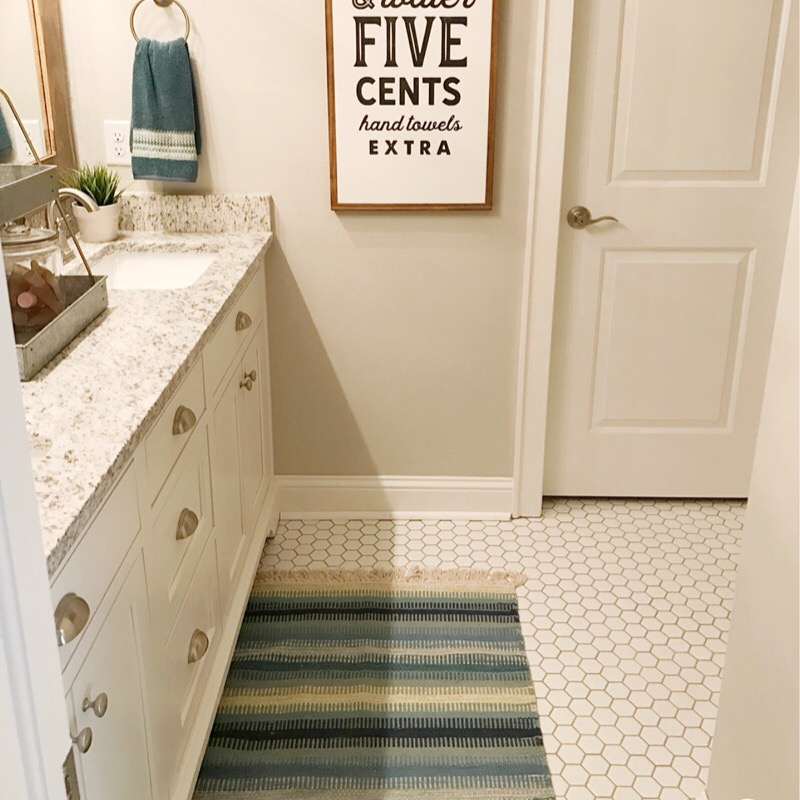 They were able to float the floors here, so they transition nicely and the barn door can easily glide back and forth with ease.
I hope this beautiful transformation helps you to know how to add character and contrast to a boring hallway. Wishing you luck and fun with your home builds and renovations! Please let me know what you think by leaving your feedback and questions in the comments!
Blessings,
🌿 Alicia
I acknowledge that RB's Flooring is partnering with me. As a part of this partnership, I am receiving compensation in the form of products and services, for the purpose of promoting RBS Flooring. All opinions stated above are my own and my experience with the brand and its products.