Welcome, friends!  I'm excited to share our girls vintage bedroom reveal with you!  It was such a fun transformation and Ava loves her more grown-up bedroom, a room she is sure to enjoy for years to come!  When I did the sneak peek on Instagram a few days ago, I received many questions about the paint color and decor accessories.  Those questions will all be answered throughout this post.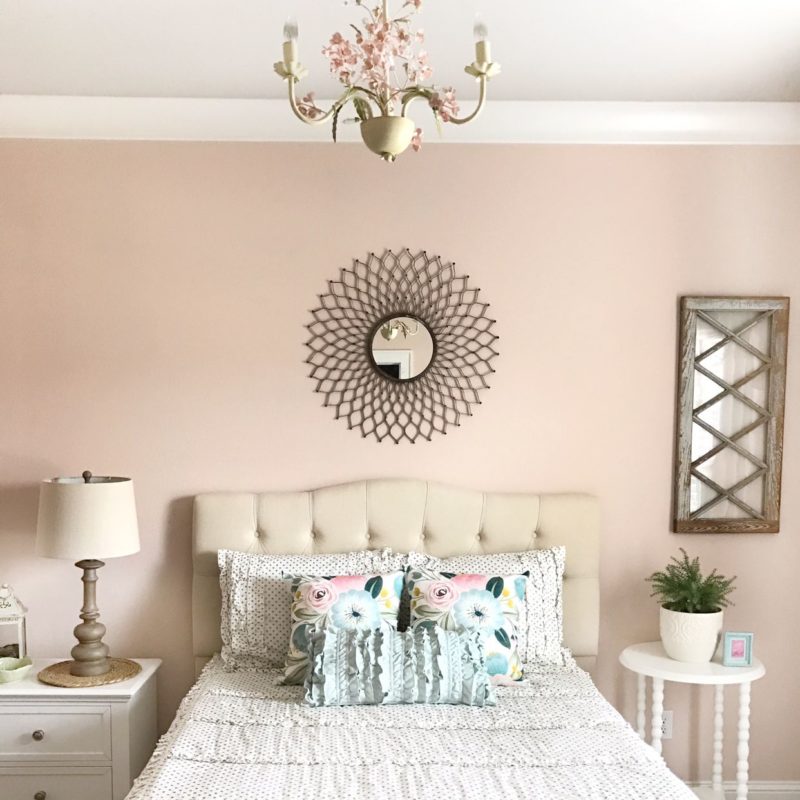 When we moved into this house a few months ago, our kids requested full size mattresses, which also meant new headboards.  Ava expressed an interest in a padded headboard; I found this tufted head board from Joss & Main and she loves it!
I involved Ava as much as possible with the transformation of her new room.  Prior to painting, the color of her walls and ceiling were Agreeable Gray by Sherwin Williams.  We kept the ceiling the same and just painted walls.  When it came to discussing paint colors, her top choices were lavender and pink.  She finally decided on pink, but not just any pink; we both agreed it would be a soft, subtle pink.  Late last year, I received a few gallons of Magnolia Home paint and one of the colors I chose was Ella Rose.  I tested a few places on her walls (it's always best to do this before painting an entire room) and we fell in love… It was the perfect peachy pink.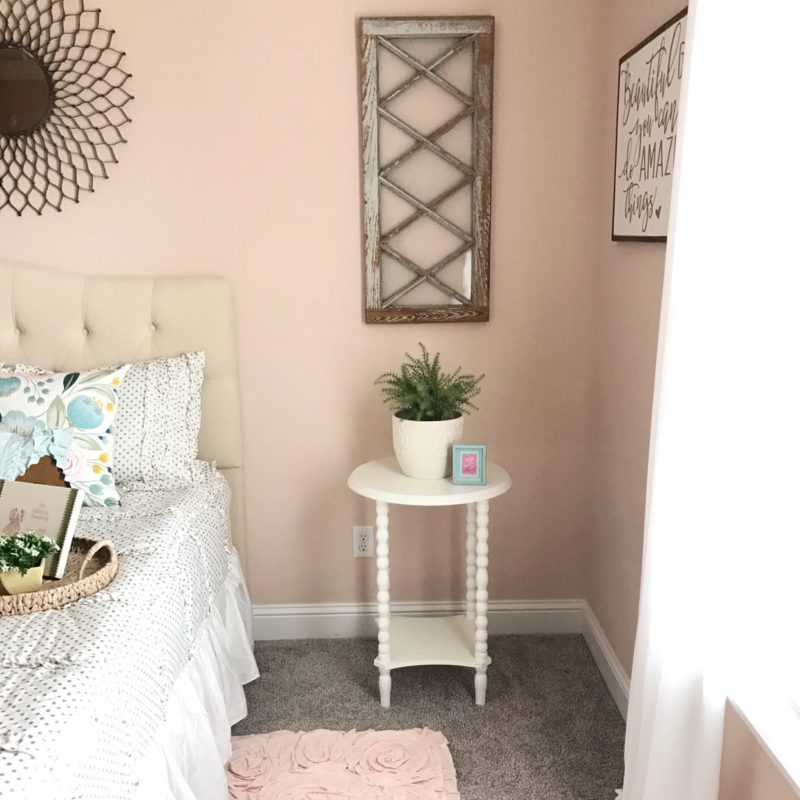 My dear friend, Jennifer and I collaborated on this custom sign and I absolutely love how it turned out!  I love Jennifer's attention to detail and the time she took with me to get it just right!  I've always loved the gold lettered signs and with this gold polka dot bedding from Beddy's Beds, it ties in beautifully.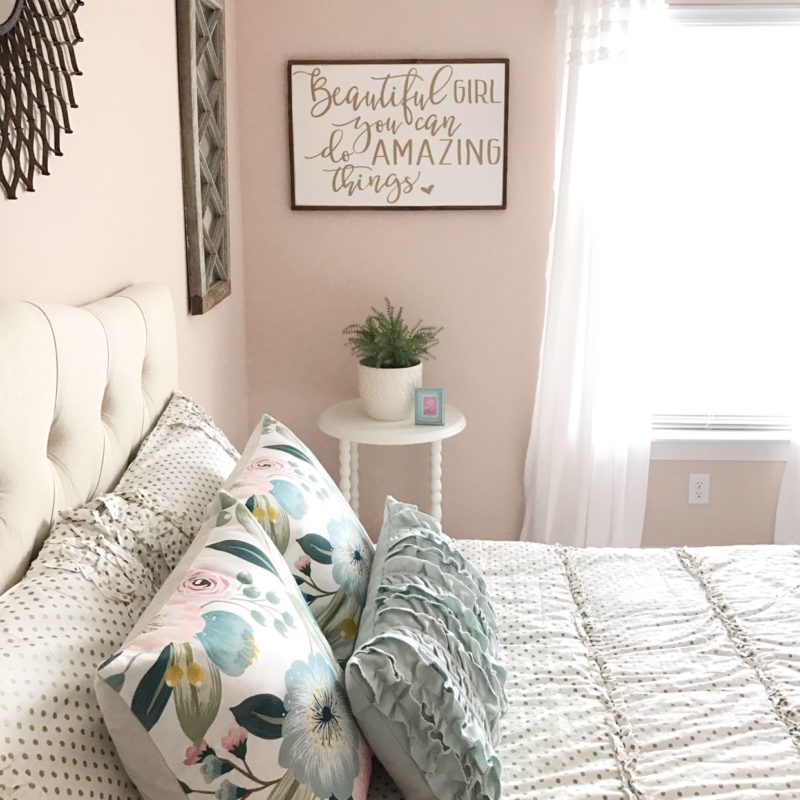 I wanted to bring a subtle touch of floral to her room and we both loved these pillows designed by my friend, Kristy at Jolie Marche.  The ruffled lumbar pillow was found later and is the perfect light blue.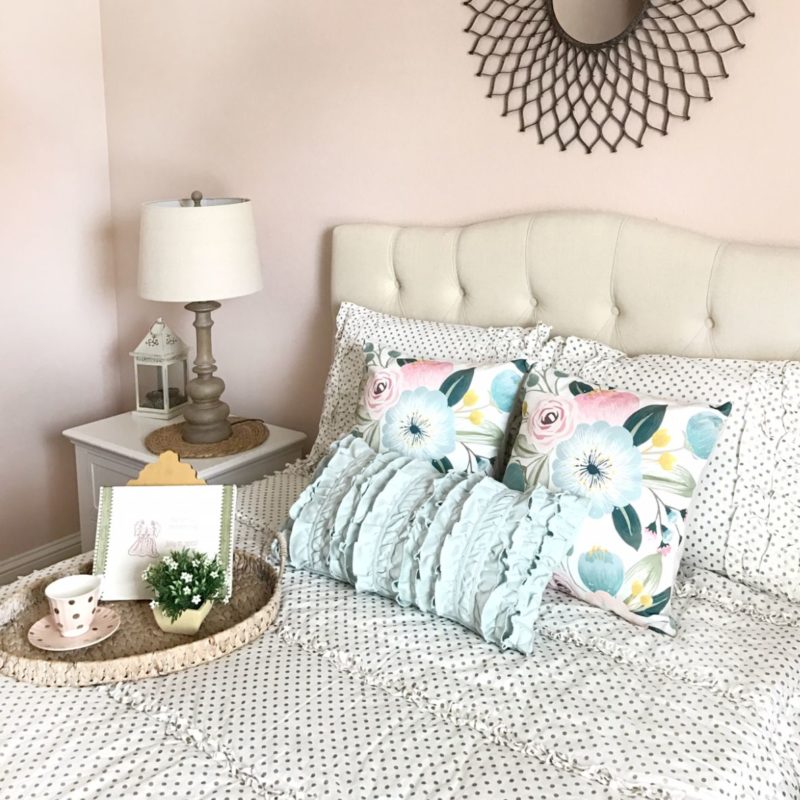 In her last bedroom, she didn't have a proper night stand.  I love the legs on this piece from Birch Lane  and the two drawers give her plenty of room for her books, journals, drawings and hard candies.  I often find candy wrappers in here; I think she thinks I won't find them, sneaky girl. ;)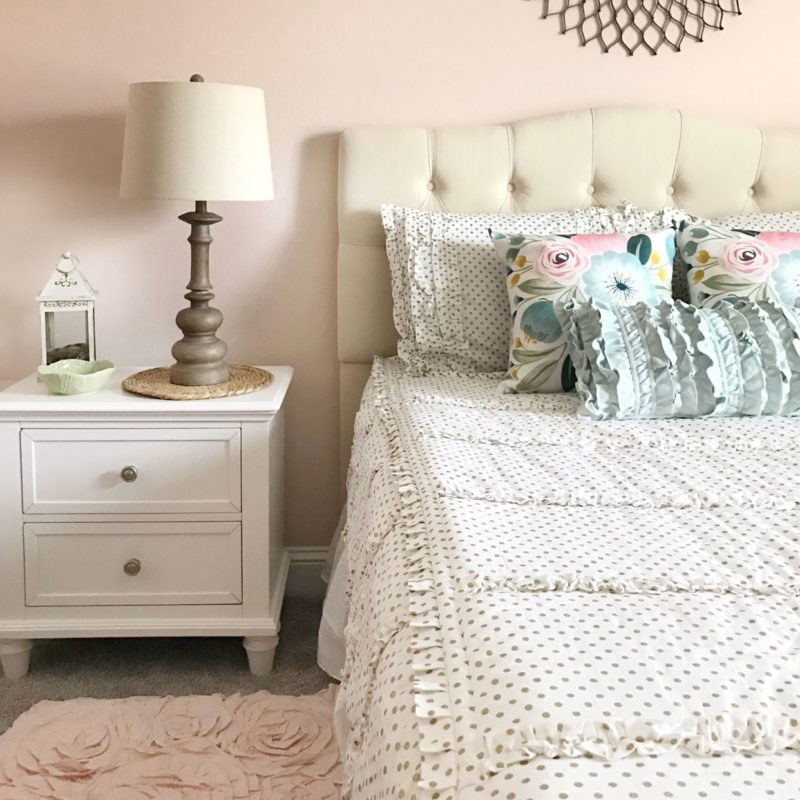 Her room would not be complete without a pretty pink chandy!  This beauty from Birch Lane reminded me of her nursery, the blossoms and colors are reminiscent of her baby bedding, which makes this room that more sweet!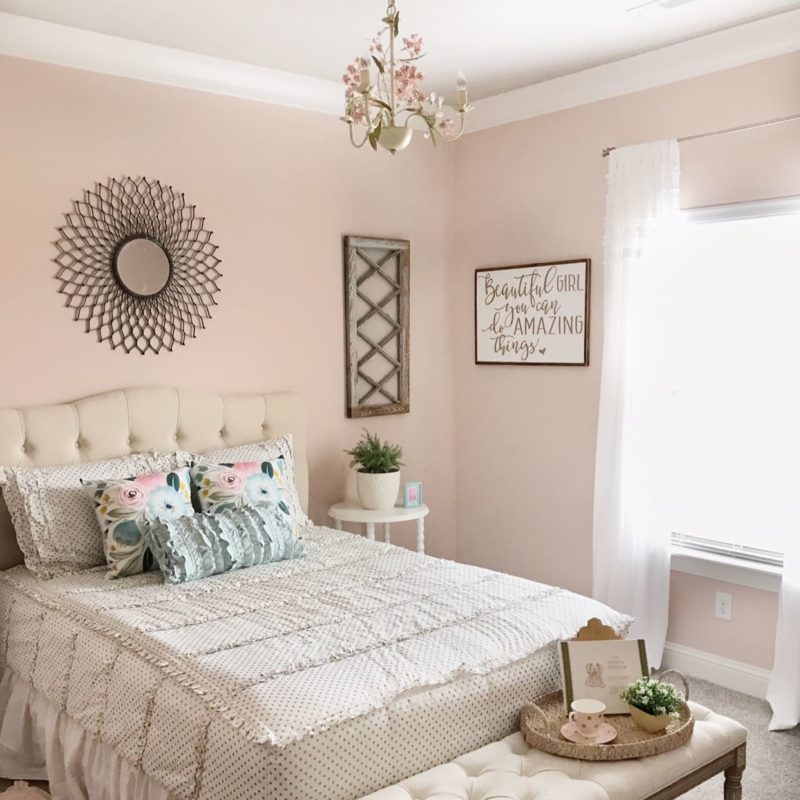 The old window, ruffled curtains and sunburst mirror were all pieces I had and repurposed for her new space.  If you've been following me awhile, you know I love to shop my home and repurpose what I have.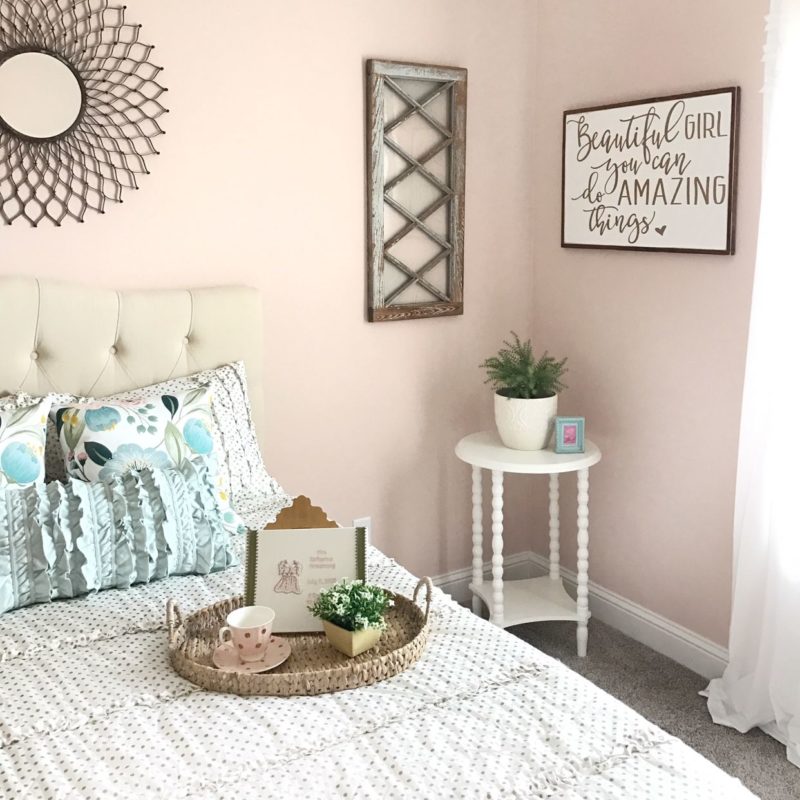 I created this sweet gallery wall and love the vase sconce, gifted to me by a dear friend.  It's perfect for the dried billy buttons that tie in with the touches of gold in her pillows.  This wall is above her antique desk, where she can sit and do homework, draw and be creative.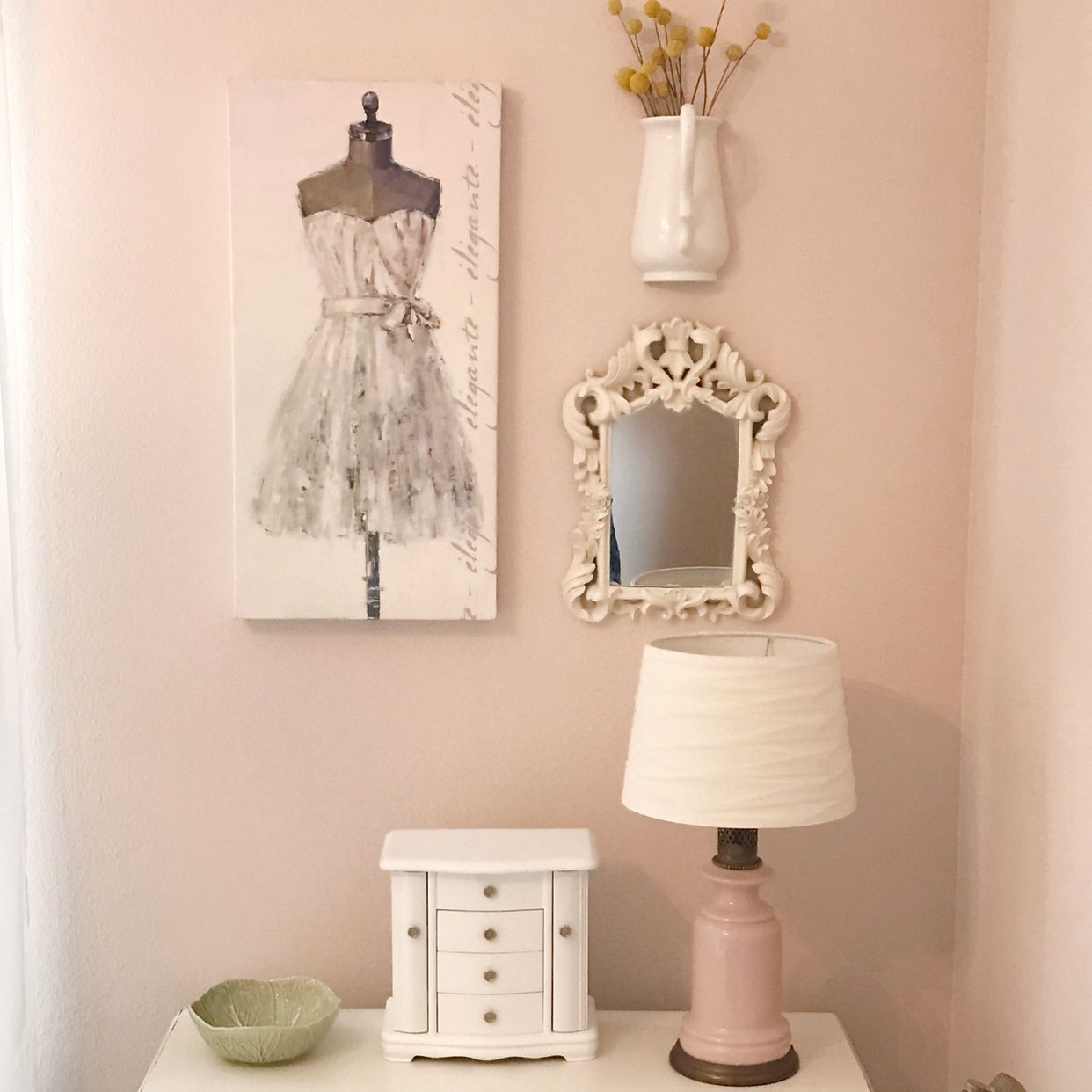 If you're looking to create a more grown-up girls room for your daughter, I hope our girls vintage bedroom reveal inspired you.  Below, I've sourced the home items for this room; I've done my best to link similar decor pieces.
Blessings,

I acknowledge that Birch Lane is partnering with me.  As a part of this partnership, I am receiving compensation in the form of products and services, for the purpose of promoting Birch Lane.  All opinions stated above are my own and my experience with the brand and its products.