Hi friends!  What a crazy ride it's been since we said goodbye to our home in Central Arkansas and began our new adventure in the NW!  Thank you for your interest in the construction of our new home, we have loved sharing the journey with you!  This post will include the design details of our new home and paint colors.  We are still about a month out, but wanted to share the details up to this point.  Many of you have shared that you are in similar phases of building or remodeling, so I hope you find this information helpful!
The building process began in mid-July after selling our previous home.  We found it in the framing stage (about three months into construction); once we had the chance to see it in person, we quickly fell in love with its charm.  It's the perfect layout for our family!  We also learned we were able to choose all the finishes, including colors, cabinet details, flooring, lighting, etc.  It's been a dream come true for this interior stylist, not to mention a huge learning experience!  So, without further ado, let me share with you what we have selected!  Pardon the mess, it's a (fun) work in progress!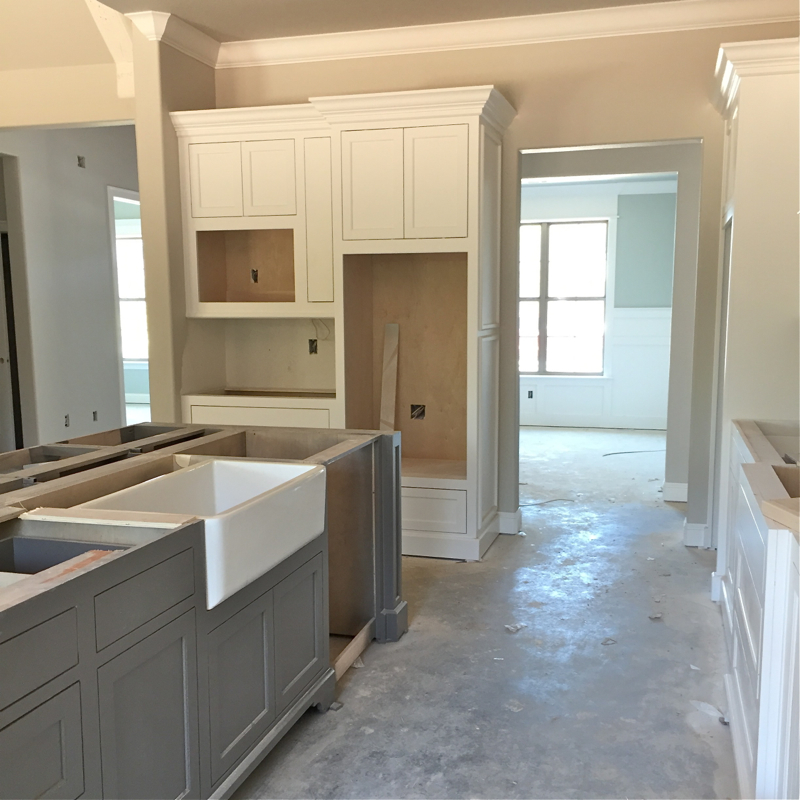 For the cabinets, doors and trim, we selected a beautiful warm white by Sherwin Williams called Snowbound.  It's quite a change from the Antique White in our last home, but I am loving the change and warmth of this color.  It was applied in a satin sheen finish.  Please forgive the quality of some of these photos, as they were quickly taken with our iPhones during our daily visits to view the progress.
The wall color throughout the main entry and living areas is called Agreeable Gray by Sherwin Williams.  We prefer a minimal sheen on our walls, that is easy to clean, unlike flat finishes that show everything.  We used Duration in a matte finish, one of many lines that SW carries.  This color was used in our kitchen, living room, downstairs hallways, downstairs guest room and pantry.  It's a fool proof gray that was highly recommended by several friends and building designer.   We also carried this color upstairs in our kids rooms, their bathroom and hallways.  At some point, we will add accent colors to their rooms, but I felt it easier to go neutral until they decide how they want their rooms to look.  Plus, having this neutral gray on the ceilings, I will not have to paint them when I change the wall color, which is very convenient.
The island color was done in a gorgeous gray called Gauntlet Gray, also by Sherwin Williams, it was applied in a satin finish.  Once the quartz is installed, the island will measure 9 feet long by 4.5 feet deep. And… We mustn't overlook the 33″ fireclay farmhouse sink… Just installed this week!  I'm so in love with this beauty!  It was purchased online through Signature Hardware.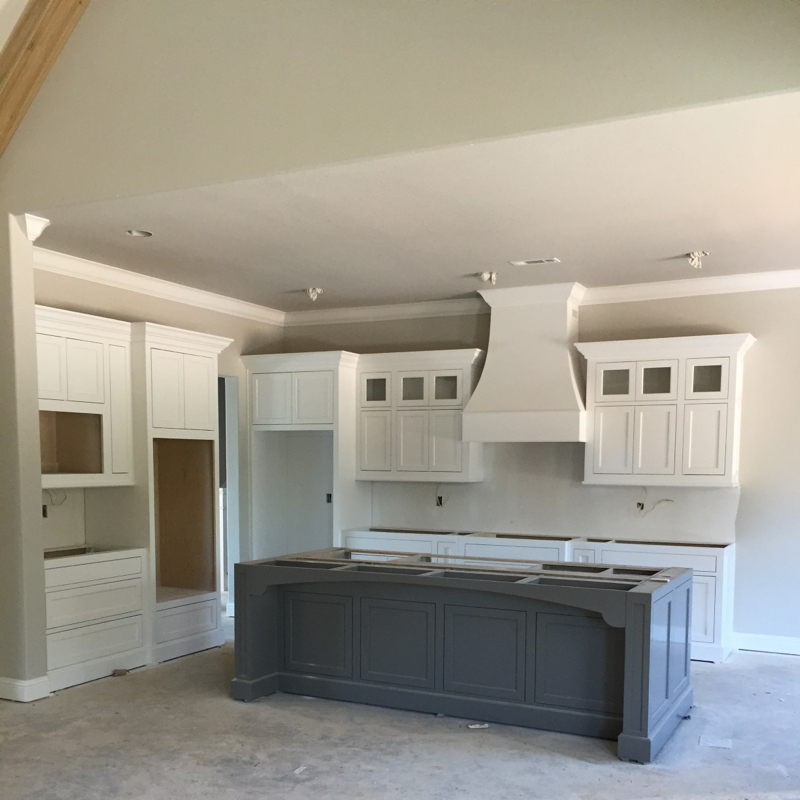 This is the living room, where we added custom built-in bookcases and shiplap to the ceiling.  The shiplap was made using MDF and will also be painted with SW Snowbound.  The trim workers created 5.5 inch boards and separated them with wood shims to keep the boards equally spaced.  The dry stack stone is a custom blend of grays and browns; it doesn't have an actual name, as each piece was hand selected based on an inspiration photo, thanks to Emily at A Well Dressed Home.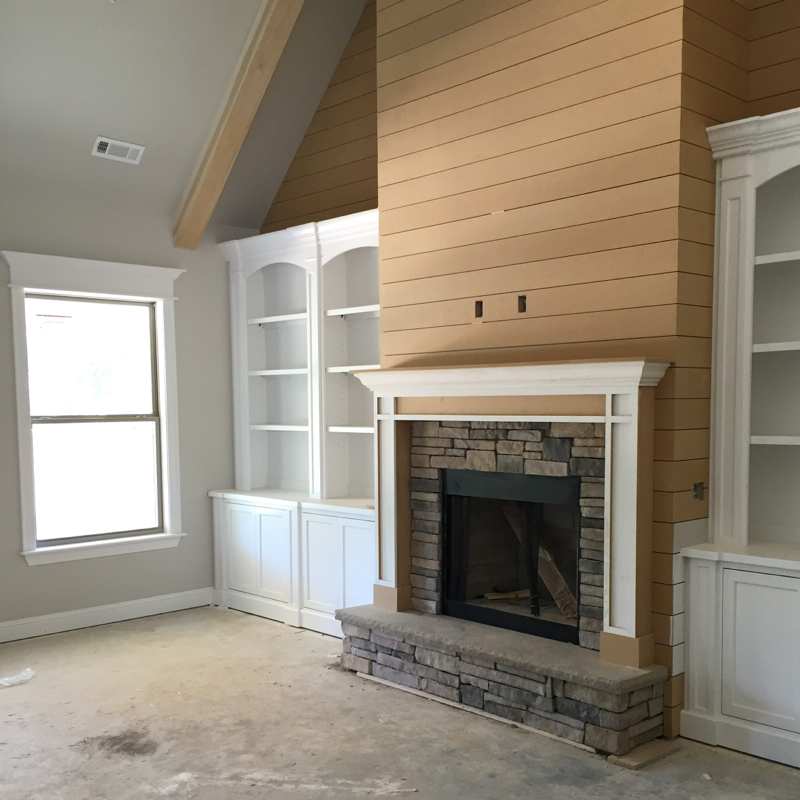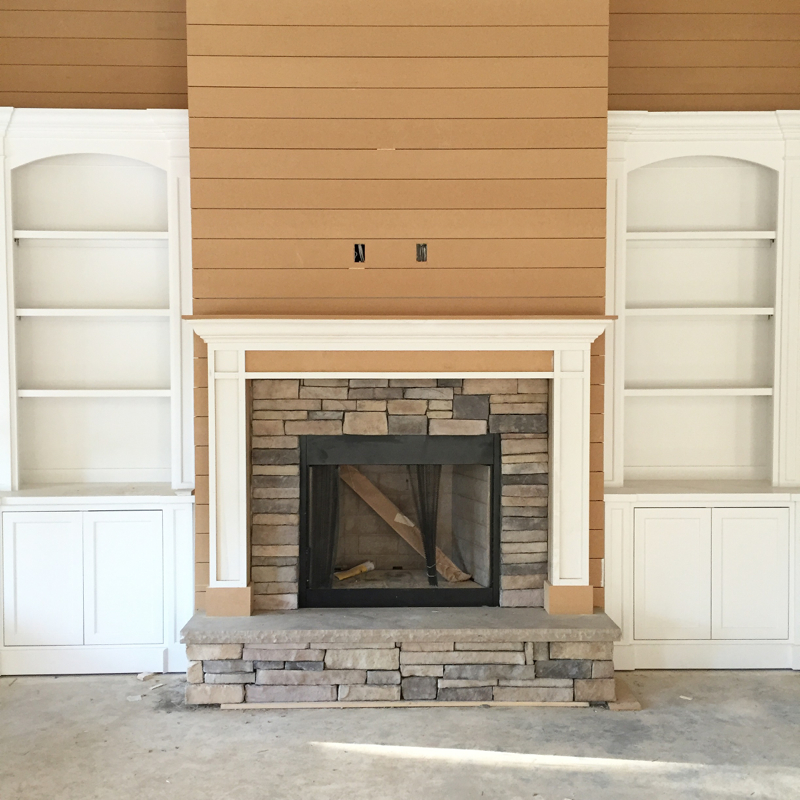 This is just a small area of our master bathroom, where we were able to customize the cabinets, adding decorative feet to the base, to give the look of a furniture piece.  The carpenter and I designed these cabinets together, he's local and was hired through our builder.   I just love how this turned out, along with our wood grain tile, laid in a herringbone pattern.  We painted this room Sea Salt by Sherwin Williams.  This is the third time I have used this color in our homes… It's never steered me wrong; I just adore it!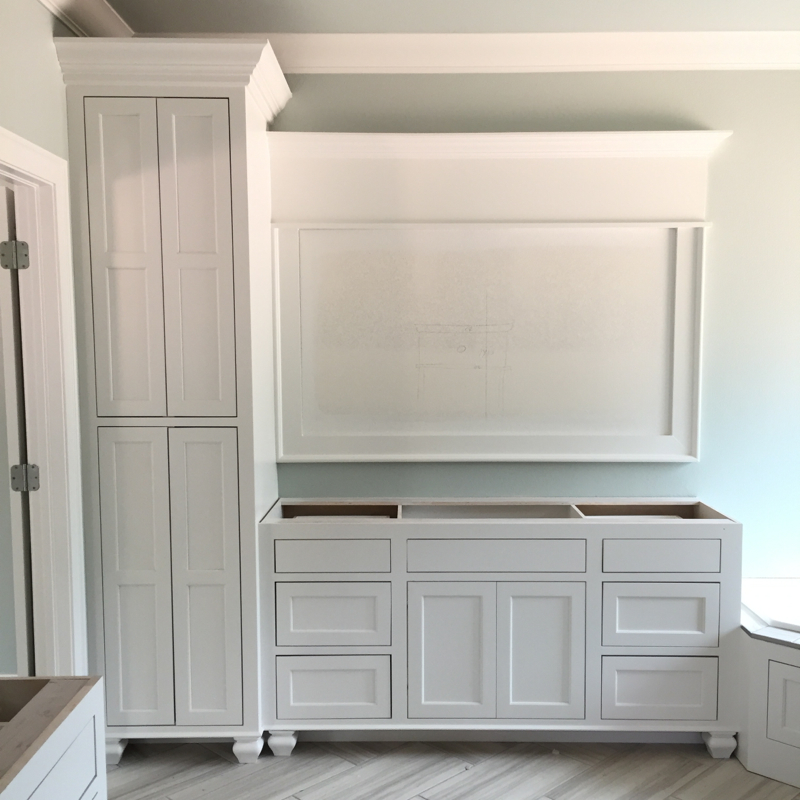 The half bath is one of my favorite rooms and was the most fun to decorate.  I continued the look of furniture in this space, but picked different feet from our master.  I instantly feel in love with this tile after I saw a friend use it in a clients bath remodel.  Isn't it stunning?  It's a Merola Tile that I purchased online from Home Depot and I absolutely love how it turned out!  I think I may find myself in this bathroom to get ready in the morning!  The lighting has yet to be added, but when it is, I will share with you the details of those beauties in another blog post.  Stay tuned… Lots of eye candy in every room!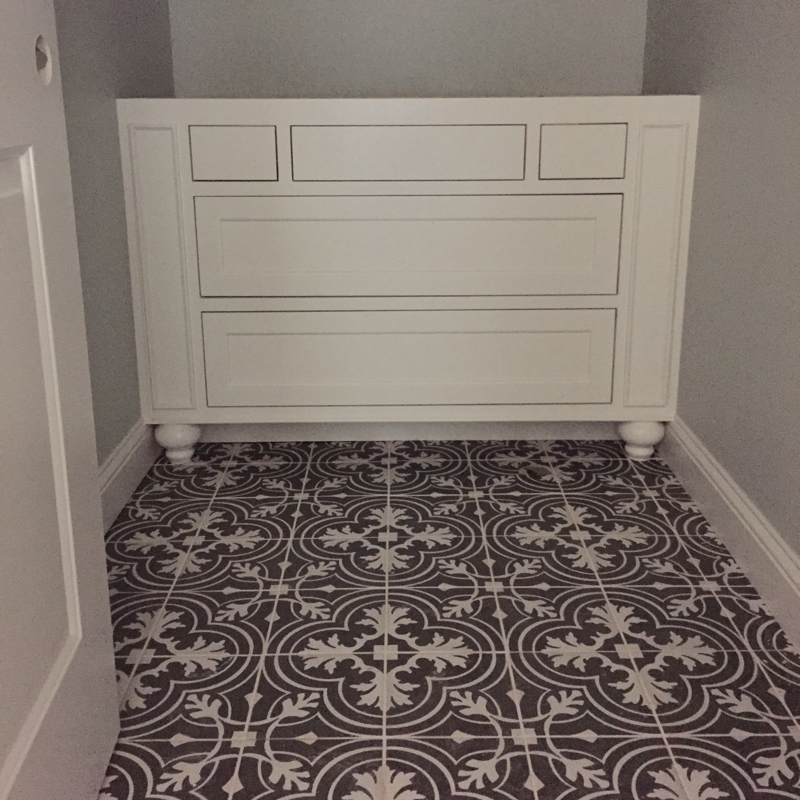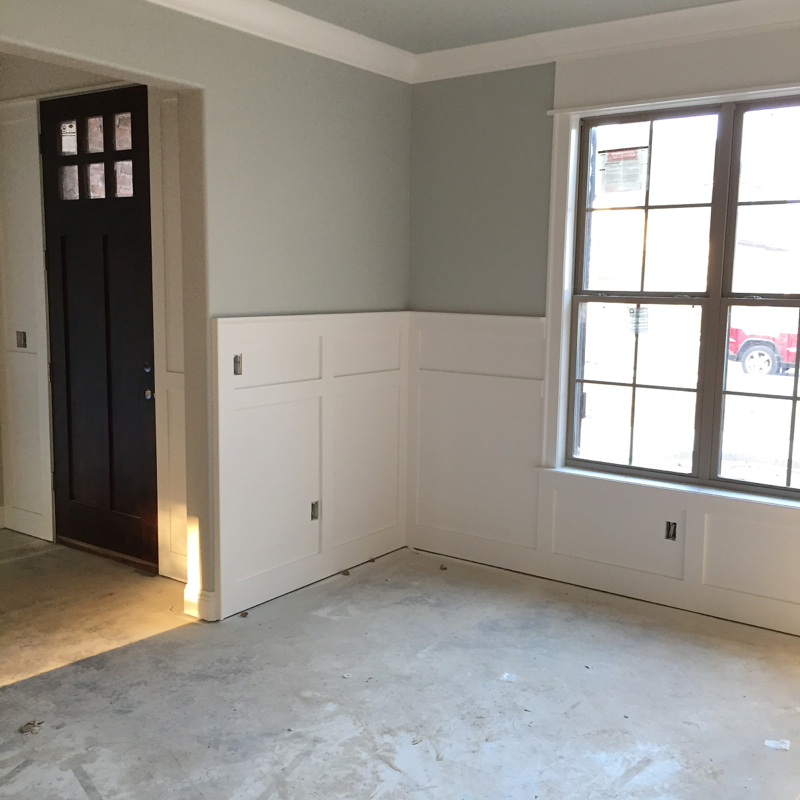 As far as wall colors for our home, there are just four for now, but we will be adding more once we move in.  All the wall finishes were done in a matte sheen and the ceilings in each room match the color of the walls.  I used Silver Strand by Sherwin Williams for our master and dining room, as seen here.  We also added board and batten in the dining room… It was designed at 54″ high to accommodate the clearance of light switches.  Another favorite paint color that we used is Sea Salt.  It was applied in our half bath (above), master bathroom, office and laundry room.  The remaining rooms were painted with Agreeable Gray and will most likely have an accent color added once we move and settle in.  I hope you have found these design details of our new home and paint colors helpful.  I will be working on future posts to keep you up to date on the progress and changes!
Blessings,